Do you know what History Open is?
History Open is a new extension compatible with Google Chrome. The information available on its official website http://historyopen.com tells users that they could easily access and control the browsing history if they click the button and install this extension on their browsers. It is presented as a beneficial piece of software at the Chrome Web Store as well. We do not say that it does not do anything and is completely useless, but, unfortunately, we cannot confirm that this extension can be trusted fully. Most probably, those 119 128 users who installed it from the Chrome store did not know that this piece of software is a potentially unwanted program. Yes, according to our experienced team of specialists, History Open cannot be called fully reliable. It is far from a malicious application either; however, it is still not advisable to keep it. You should especially not keep it if you have not installed it willingly, but, instead, found this add-on in the list of add-ons and have no idea why it is there. If you continue reading this article till the end, we are sure you will delete this potentially unwanted program easier.
History Open promises to make it easier to access the browsing history. Specifically speaking, users are told that they could check recently viewed websites with the click of a button. This button will be added next to the menu button at the top the moment the extension is installed. It might seem to be quite a useful feature, but users should know that they can access the browsing history without special software either. Because of this, we do not consider History Open a very beneficial piece of software. The final decision is yours, but you should know that it can track you and record various details about you if you keep it. Since it does not have End User License Agreement or Privacy Policy, which is very suspicious, it is not clear what details it will record. We hope that it will gather only details considered non-personally identifiable, but we cannot promise that it will not try to get any personal information. In most cases, extensions known as potentially unwanted software gather details associated with users' interests and activities on the web. If you do not want to share this information with anyone, it would be best to remove History Open.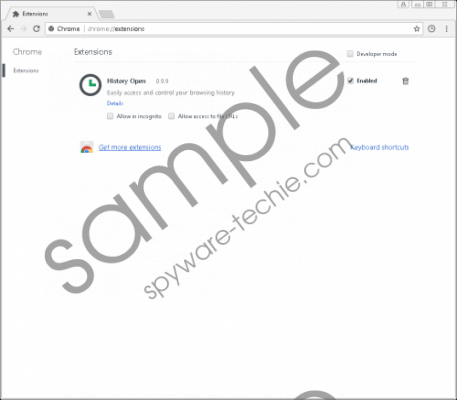 History Open screenshot
Scroll down for full removal instructions
There is one more reason History Open is considered a potentially unwanted program by specialists. Researchers have managed to reveal that this extension might be spread bundled. In other words, it might enter users' computers together with third-party software. In most cases, it is free software available for download on dubious file-sharing websites. Potentially unwanted programs are not the only suspicious applications that are spread bundled. A bunch of other undesirable programs are often disseminated in software bundles as well, so, from now on, you should always carefully install new software. Unfortunately, this does not necessarily mean that this will be enough to prevent future threats from entering the system. What our security specialists also recommend for you is installing security software. It will not allow new malicious applications to enter your system unnoticed. Go to install only a 100% trustworthy security application because, without a doubt, not all the tools can prevent undesirable software from entering the system.
The removal of History Open should be quick and easy because the only thing you have to do is to open the add-ons manager and then remove this extension. If this does not tell you much, use our manual removal instructions – you will find them below this article. Alternatively, erase this potentially unwanted program using an automated malware remover. First, you need to acquire one, of course.
How to delete History Open
Google Chrome
Start Google Chrome.
Press Alt+F and click More tools.
Select Extensions.
Select the undesirable extension and click the trash button.
Click the Remove button.
In non-techie terms:
History Open is a piece of software that should make it possible to access the browsing history easily. Although it claims to be a beneficial piece of software, it would not be truth if we said that it is known to be trustworthy software. Specialists know this extension better as a potentially unwanted program because it might be installed on PCs without the users' knowledge and, on top of that, it might collect information about users.