Do you know what History Button Extension is?
History Button Extension is a potentially unwanted program that affects the Chrome browser. On the other hand, it might enter your computer even if you do not use the Chrome browser. These programs tend to be distributed in various ways, and they could easily enter your computer with other unwanted applications. At the same time, it means that when you remove History Button Extension from your system, you should look for other undesirable programs that might be slowing down your system. The best way to located potential threats is to scan your computer with a licensed antispyware tool.
This program has a homepage at historybutton.net. Thus, it seems that the program should be reliable because it has an official source. However, during our tests, we have found that the direct download link at the website does not work. Hence, the page is just an empty shell at the moment. Perhaps, when this program was just released the "Add to Chrome" button did work, but when we opened the website, clicking the button did not add History Button Extension to our browser. Therefore, if you have this extension and you do not remember getting it via the official website, it clearly entered your PC using other methods.
As mentioned, the program may enter your computer with a bunch of other unwanted apps. Now, why does this happen? The possibility of users downloading such applications willingly is very low, so they need to use other methods for successful distribution. And the most common way for a potentially unwanted program to reach a target system is to use bundled downloads to spread around. It means that the application can come in one package with some other program. And it happens quite often when users download applications from third-party websites.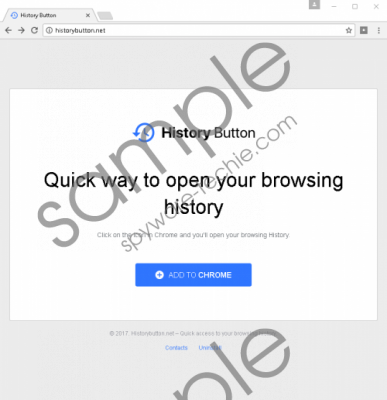 History Button Extension screenshot
Scroll down for full removal instructions
Your web browsing habits are very important when it comes to protecting your system from potential threats. Computer security experts may emphasize the importance of a security application, but the websites you visit and the files you download also play a crucial role in ensuring that your system does not get infected with malware. Therefore, instead of downloading programs from unfamiliar third-party sources, you should resort to downloading them from original homepages. If you do that, you will significantly decrease the possibility of installing unwanted applications on your computer. Consequently, you should also be able to avoid malware infection, too.
Needless to say, History Button Extension is very far from a malware infection, but such extensions are very annoying, and they could also be exploited by cyber criminals to expose you to corrupted content. Not to mention, that the functions ascribed to this extension are highly questionable. According to the official website, this History Button Extension is a "quick way to open your browsing history." But the point is that you can do the same just by using the History menu on your browser. It is just one click away anyway, and you do not need such an extension.
Not to mention that the program could also be used to spy on you. Of course, it cannot log you keystrokes like a genuine Trojan infection, but it could collect information on your web browsing habits to generate custom commercial advertisements later on. These ads are more annoying than dangerous, but you should not tolerate anything that interferes with your usual web browsing habits. What's more, there is always a possibility that the commercial ads could be embedded with outgoing links that lead to potentially dangerous websites. Then you could be only one click away from an extremely dangerous infection.
It should be obvious that you have to do everything to protect your computer and your personal information from potential exploitation. Therefore, the sooner you remove History Button Extension, the better. It is very easy to delete this extension from your browser, but, once again, we emphasize the importance of scanning your system with a licensed antispyware tool that would help you locate all the potential threats and then remove them automatically.
Should you have more questions about your system's stability, you can always leave us a comment below. Our team will be glad to assist you.
How to Remove History Button Extension
Open the Chrome browser.
Press Alt+F and click More tools.
Open Extensions.
Remove History Button Extension from the list.
Restart your browser.
In non-techie terms:
History Button Extension is not a dangerous computer infection, but it is one of those many applications that are highly suspicious and should not be allowed to remain on your system. You must have installed this extension accidentally, and now is the time to remove it. When you get rid of History Button Extension, you should look for other unwanted applications because such programs tend to travel in packs. If you must, use a computer security program to track down them all.