Do you know what High Priority Message is?
High Priority Message is a fake system message from scammers that users might see if they get redirected to a website called criticalwarningerrortgfn.xyz/main4. The notification should claim something critical has happened to your computer and to avoid more damage, it may ask you to dial 1-800-158-029, which is supposed to be a number for Windows technical support. Unfortunately, the number does not belong to Microsoft. Not to mention system alerts usually suggest a particular course of action instead of asking the user to make a call. Thus, if you ever see a suspicious system message asking to call a specific telephone number, we would advise you to search this number on the Internet first. If you find it is related with scams, you should close the window immediately. However, it is not always an easy task and to help users deal with High Priority Message alert faster, we have prepared a step by step removal guide available below the article.
Further in the text we will talk more about the suspicious notification and to begin with we would like to explain to users what may happen after they are redirected to criticalwarningerrortgfn.xyz/main4. First of all the affected browser might go to full-screen mode. Some users could get rather confused when as they might not know how to exit the full-screen mode. No doubt, the hackers behind this scam know this and so uses it to make it difficult to get rid of High Priority Message. On top of the loaded website, it should show two separate pop-up windows. One of it provides just the so-called support telephone number (1-800-158-029) and the second one is there to convince the user something went wrong with the system and it is important to call the provided telephone number as soon as possible.
Naturally, if you do not want to reveal your sensitive information accidentally, purchase overpriced products and services, or be scammed in any other way we advise you not to call the provided telephone number. Users have to understand that the people they could end up speaking with might be scammers pretending to be technicians. Plus, despite what High Priority Message says, calling this number could be expensive. Obviously, the user could be scammed in many ways depending on how inexperienced he is, so it would be best not to give the hackers any opportunities to trick you.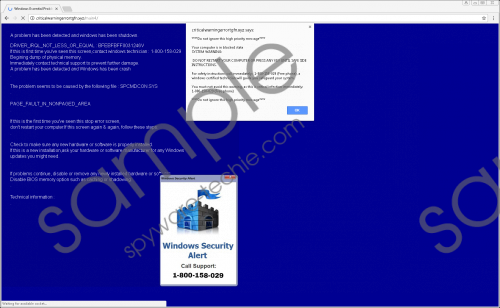 High Priority Message screenshot
Scroll down for full removal instructions
At this point, some of you may wonder how users get redirected to the site showing the fake alert. Usually, the answer is possibly harmful software that might have been installed on the computer before the redirection began. For example, the redirection could be initiated by adware applications, potentially unwanted programs, browser, hijackers or even more dangerous threats. Besides being redirected to the site displaying High Priority Message, the user could also experience redirections to other unreliable websites as well. Consequently, if you think your browser has been showing more annoying and questionable advertising content lately, we advise performing a complete system scan with a reputable antimalware tool you can trust. During the scan, it could locate all potential threats, and after the scan, users could erase them all at the same time just by clicking the deletion button.
The last question we should answer is how to remove High Priority Message. Our researchers say Google Chrome and Mozilla Firefox users should be able to close their browsers normally and no matter which browser is used one can exit full-screen mode (if it has been activated) by just clicking the F11 key. If you received the fake alert while browsing with Internet Explorer, you might have to close it by killing its process via Task Manager. It is not as difficult as it may seem and if you have a look at the removal guide placed below you should be able to do this yourself.
Eliminate High Priority Message
Press F11 to exit full-screen (skip this step if the browser is not in full-screen mode).
Launch Task Manager by pressing Ctrl+Alt+Delete at the same time.
Choose Task Manager and select the Processes tab.
Look for the browser's process.
Click it to mark it and select the End Task button.
Exit Task Manager.
In non-techie terms:
High Priority Message is a fictitious system notification, most likely created to extort money, steal sensitive information, or trick less experienced users in other ways. Therefore, if you noticed this message is displayed on your browser, we advise you not to pay any attention to the text displayed on it or urges to call the pretense technicians. The best way to deal with it would be to close the browser displaying the fake alert immediately. This you can do if you have a look at the removal guide located above this text. Additionally, our researchers recommend scanning the computer with a reputable antimalware tool since the pop-up message could be displayed by some threat hiding on the system.