Do you know what High PC Booster is?
If you do not remember installing High PC Booster, it can mean only one thing: This potentially unwanted program (PUP) may sneak onto your computer without your knowledge. In all fairness, we also need to mention that it is possible that you knowingly install this PUP; however, our experience and user reports indicate that the majority of the cases may not be official versions. This software seems to be a typical low-quality PC cleaner and optimizer whose free version does not get you too far. In fact, it may only show you a list of hundreds or even thousands of system issues that need fixing. But you must buy the full version if you actually want to fix these supposed issues. We have seen identical characteristics in the case of PCEasyNow and Master Pc Cleaner as well. The web is filled with such worthless programs that try to fool unsuspecting users. You can forget about the magical power this "booster" may claim to make your PC run faster and so on. Our researchers say that you should remove High PC Booster if you plan to keep your computer secure. Please do not forget about the possibility that more serious threats may have also infiltrated your system alongside this PUP.
As we have mentioned, it is, of course, possible that you find the promotional website, highpcbooster.com, and download this PUP from there. Although, we doubt that this is the main distribution channel for this questionable software. How could you find this site anyway? Do you think entering the name of this PUP or similarly general keywords like "PC optimizer booster" would give you the link in the first ten results pages? You are more likely to find articles from malware researchers warning users to remove High PC Booster and other similar PUPs.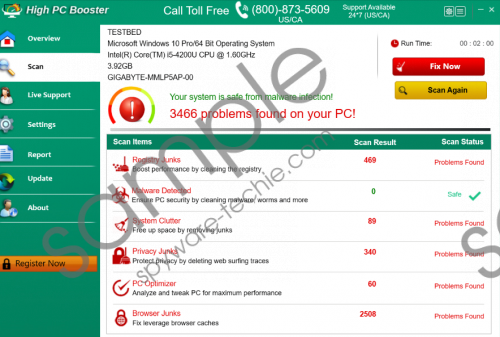 High PC Booster screenshot
Scroll down for full removal instructions
Our researchers have found that this tool can also be installed when prompted by suspicious webpages. It is possible that you want to download a software crack or a free movie and land on a suspicious torrent site. However, when you click to download or simply to search for free stuff on the page, malicious scripts may be triggered, which may open a new tab with a fake page pushing you to install this software because your system could be infected or similar claims. Of course, it is also possible that you drop a freeware bundle onto your computer by clicking on a corrupt third-party advertisement. This bundle, however, may contain more than just a PUP; you could install a couple of PUPs instead as well as adware programs, Trojans, fake alerts, browser hijackers, and more. No wonder why it is important that after you delete High PC Booster from your system, you use a reliable online malware scanner (if there is none installed on your PC) to detect all other possibly harmful programs on board. Leaving any unaddressed could cause further system security issues for you.
This new PC "booster" works exactly according to the good old recipe. The free version only lets you scan your system; however, you will not like what the listed results will show you. Hundreds and thousands of alleged errors, junk files, and so on. If you are not an experienced user, you might actually believe that there is a serious security issue on your computer and you must buy the full version to be able to fix every single item on the list. Please note that most of these issues are simply unused temporary files and registry entries. Even if you remove these, your PC will not turn into a supersonic airplane. As a matter of fact, it is more likely that you will not notice any change or improvement at all. So why would you pay 20 dollars for a virtually useless program? This is why we advise you to remove High PC Booster from your system.
The only positive thing we can tell you about this PUP is that you can easily remove it if you find the uninstaller in the list of installed programs in Control Panel. If you have never uninstalled an application, please use our guide below this article as a reference. Keep in mind that eliminating the least dangerous threat from your computer may not mean that it is all safe for you to use now. We advise you to go on hunting threats until you know that your PC is secure. You can do this manually or you may also choose to apply a trustworthy malware removal application like SpyHunter. Your choice.
High PC Booster removal from Windows
Windows 8, Windows 8.1, and Windows 10
Right-click on the Windows logo in the bottom-left corner and select Control Panel.
Select Uninstall a program.
Click on the application in the list and click Uninstall.
Windows Vista and Windows 7
Open the Start menu and select Control Panel.
Pick Uninstall a program.
Click on the application in the list and click Uninstall.
Windows XP
Click the Start button and select Control Panel.
Choose Add or Remove Programs.
Click on the application in the list and click Uninstall.
In non-techie terms:
High PC Booster claims to be, well, as its name says, a PC "booster" but our researchers have not really been convinced by this software. As a matter of fact, we have labeled it as a potentially unwanted program that is no real use to you. The free version may do nothing more than try to frighten you with lots of system errors after each scan. However, these results may contain made-up registry entries or files, too, as we have seen so many times before in the case of other similar PC optimizers. This program does not pose a real threat to your computer although it may infiltrate your PC along with malicious software installers. All in all, we believe that it is best for you to remove High PC Booster from your computer and install a real and powerful anti-malware program to protect your system against all possible threats.