Do you know what Hi Buddy Ransomware is?
The name of the Hi Buddy Ransomware is completely ridiculous, and we are sure that you will not be as cheerful to see it on your PC as the cyber criminals behind it. This infection belongs to the same group of malware as Crysis Ransomware, PadCrypt Ransomware, JobCrypter Ransomware, and many other malicious, file-encrypting infections. The main objective behind these threats is to extort money from you. In this case, a very specific sum of 0.40347888 BTC is requested. This sum roughly translates to 170 USD. BTC, or Bitcoins, is a virtual currency that allows virtual transactions, and cyber criminals can collect payments without being tracked. Unfortunately, this ransomware encrypts personal files, which is a great leverage for cyber criminals to extort the payment from you. Before you make any decisions about the ransom payment, you should read this report and learn ways to delete Hi Buddy Ransomware.
The malicious Hi Buddy Ransomware targets the most sensitive file types, including MP3, DOC, PPT, JPG, PDF, and PNG. While it is fairly simple to replace generic files, it is impossible to replace personal files unless they are backed up somewhere else. Are your personal files backed up? If they are, do not worry about the encrypted copies and simply eliminate the malicious ransomware from your operating system. Obviously, if you are desperate to decrypt your files, this is not the best option for you. All in all, the removal process is not that simple. This is because this malicious ransomware can "block" all programs by placing its own interface over them. According to our research, Hi Buddy Ransomware is represented via a full-screen interface, and you cannot disable it. Although Mozilla Firefox, Google Chrome, and Microsoft Edge browsers are blocked by this ransomware, Internet Explorer functions via the interface of this ransomware. It would be ridiculous for a ransomware to block all access to the Internet because it needs you to pay the ransom.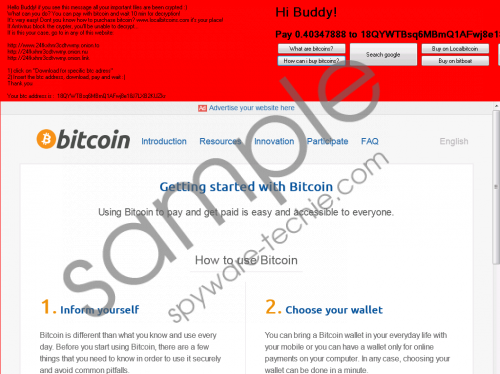 Hi Buddy Ransomware screenshot
Scroll down for full removal instructions
The interface of Hi Buddy Ransomware provides information on how to pay the requested ransom in Bitcoins. Besides the on-screen information, it also provides links to Wikipedia explaining what Bitcoins are and how to manage this virtual currency. Additionally, links to different Bitcoin vendors are provided. A "Search Google" button is also attached to provide you with access to the web. It appears that there is no other way to decrypt personal files than by paying the ransom requested. Once this infection encrypts files using the AES encryption method, the encryption key is sent to a remote server, and you cannot decrypt files without it. Unfortunately, there are no guarantees that you would be given this key if you paid the ransom either. If you are willing to take the risk, keep in mind that you are fulfilling the demands of cyber criminals, and anything could happen. Of course, if the files encrypted by this ransomware are very important to you, you might have no other option but to obey.
The removal of Hi Buddy Ransomware has to be performed by those who choose not to pay the ransom and by those who do pay it. Unfortunately, it is not that easy to eliminate this program due to several reasons. First of all, this infection blocks access to all Windows utilities and does not allow installing anti-malware software. Second, the files of this infection have random names and can be found in different locations. The instructions below show which directories you might find these files in, and they show how to install automated malware removal software if the removal of malicious files fails. If you are not sure about the process, please start a discussion below.
Delete Hi Buddy Ransomware from Windows
Scroll down to the bottom to see instructions on how to access Safe Mode with Networking. Follow these instructions fully to install a reliable, automated malware removal tool. Alternatively, reboot your PC in Safe Mode with Networking and then follow these instructions.
Tap Win+R simultaneously to launch RUN.
Type regedit.exe and click OK to launch the Registry Editor.
Enter the name of one of these directories (repeat the process with all of them).

%USERPROFILE%\downloads
%APPDATA%
%TEMP%

Check the directories for malicious files (one file per directory).
Right-click and Delete the malicious files.
Scan your operating system to see if your operating system is clean.
In non-techie terms:
Hi Buddy Ransomware is a malicious infection that can slither into your operating system without any warning. Once installed, it silently encrypts personal files, after which, it takes over the Desktop with an intimidating interface that automatically blocks access to any tools, including browsers. Please use the removal tips in this report to eliminate this malicious ransomware. Afterward, make sure to implement reliable security software to ensure further protection from the malicious infections that could attack in the future.