Do you know what HealthcareGovTool is?
HealthcareGovTool is an ad-supported program that can be installed on Google Chrome, Firefox, and Internet Explorer browsers. We recommend removing the application from these browsers, because, contrary to the official promises, it will not help you in any way. Even though the program should help you navigate healthcare.gov, what you can expect is a ton of suspicious banner and pop-ups ads. This is why you need to delete HealthcareGovTool from your operating system without further delay. If you decide to ignore this adware instead if removing it, you might risk the security if your virtual identity.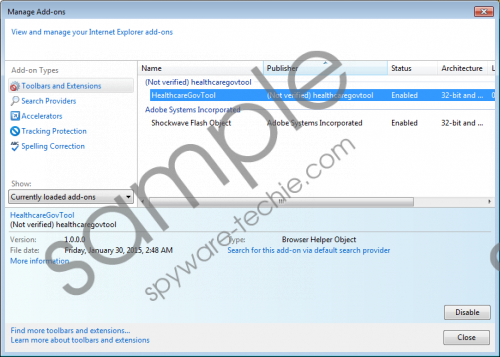 HealthcareGovTool screenshot
Scroll down for full removal instructions
Have you downloaded HealthcareGovTool from healthcaregovtool.com or has it been installed via third-party installers packaged with other suspicious programs. Either way, the ad-supported program works the same, and the fact that you should remove HealthcareGovTool does not change. Unfortunately, the number of infections that require removal could change. If you download HealthcareGovTool from its official – which was not possible during the research – it is unlikely that you will need to delete other programs. However, if you install this adware with other programs, you might discover that your operating system is beleaguered by unreliable software. Even though it is important to delete adware whose files are signed by P4hostcom, it also important to delete PriceFountain, PastaQuotes, and other suspicious applications that could be installed alongside HealthcareGovTool.
Do you want to remove HealthcareGovTool? Do you think you are not ready? Fortunately, it is very easy to delete HealthcareGovTool from your operating system, and you can perform the removal successfully using our guides. Unfortunately, we cannot say the same about the programs installed together with this adware, simply because we do not know which programs are installed on your PC. It is the smartest decision to install automatic malware removal software to eliminate all threats, but you can also use our search tool to find the removal guides for the unreliable programs you want to get rid of.
Delete HealthcareGovTool from your PC
Remove from Windows 8 & Windows 8.1
Simultaneously tap Win+R and the RUN dialog box will appear.
Enter Control Panel to open the utility and select Uninstall a program.
Right-click the application you wish to delete and choose Uninstall.
Remove from Windows Vista & Windows 7
Navigate to the Taskbar, click the Windows logo, and select Control Panel.
Move to Uninstall a program to find all installed applications.
Right-click the application you wish to delete from your PC and select Uninstall.
Remove from Windows XP
Click the Start icon on the Taskbar to open the Start menu.
Open Control Panel and double-click Add or Remove Programs.
Find the undesirable program, click it once, and select Remove.
In non-techie terms:
The ad-supported program HealthcareGovTool is not as helpful as it claims to be, which means that there is no reason to keep it installed on your operating system. We recommend all computer users to delete HealthcareGovTool using a reliable automatic malware remover, but, if you want to, you can also remove HealthcareGovTool manually. If other unreliable programs have been installed on your PC, and you cannot delete them manually, there is no doubt that trustworthy malware removal software will take care of these undesirable programs for you.