Do you know what Healer Console is?
Healer Console, also known as System Healer, is a PC optimization program that should find and fix PC's issues in order to boost the speed of the computer. It not only promises to speed up the system, but also claims that it can clean all kinds of threats that might be hiding on the computer. Last but not least, it should protect the users' online privacy. Since this program promises to act very beneficially, many users willingly download it from its official website systemhealer.com. We do not say that users cannot do that, but, in our opinion, they should know that this application is not as perfect as it might seem after reading the information provided on its official website. To be frank, our research team has even decided to place this PC optimizer into the category of potentially unwanted programs. It has been put there because it has several drawbacks. Read this article and find out more about this piece of software. You will also know how to delete this potentially unwanted program by the end of this article.
Once the so-called Healer Console is installed on the computer, it immediately starts scanning the computer. It is evident that it works because a window showing a number of unwanted items "affecting your system's health" appears quickly on the screen. Unfortunately, it will not take long to understand that this software is only a diagnostic tool because it does not do anything to remove those unwanted items detected. Users who install Healer Console on their computers expecting that it can fix issues will be very disappointed when they find out that they have to click the Register button to heal system issues. In other words, they have to purchase the license of this application and then upgrade it. According to the information available on the official website of Healer Console, the single user license costs $29.95 at the time of writing. The license of this program can be purchased using Visa, MasterCard, American Express, PayPal, or other payment methods. If you click the button to close the payment page, you will be offered to try the free trial first. Of course, you will still eventually be forced to upgrade it, so if you are not planning on doing that in the near future, you should delete Healer Console and install another trustworthy PC optimization tool. If you do not do anything and let it stay, it will keep starting with the Windows OS automatically every day. In other words, it will be automatically opened when the Windows OS loads up even though you close this application. It also means that it will use your computer's resources. There is no point in letting it perform activities on the system if you do not use it and are not going to upgrade it.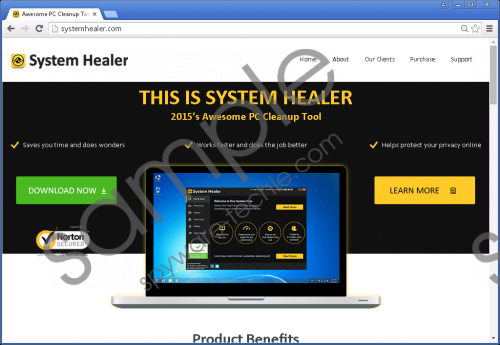 Healer Console screenshot
Scroll down for full removal instructions
Healer Console is called a potentially unwanted program not only because it works as a diagnostic tool only. Our specialists have managed to find out that this application might also be spread in software bundles. In other words, it might travel together with other applications and, consequently, be installed on the computer together with them. Generally speaking, not all the users get this application from its official website, so it is not surprising that some people cannot explain how this PC optimizer entered their computers. To be frank, users contribute to the entrance of undesirable software themselves in most cases. For example, they carelessly install applications and tend not to read the information provided for them in the setup wizard. In other words, they cannot prevent unwanted applications from being installed on their systems. Also, many users do not have security applications installed on their PCs, so it is not surprising why untrustworthy applications manage to enter their computers.
Fortunately, Healer Console can be deleted easily. Since it is not a dangerous computer infection, you can eliminate it through Control Panel. Find the entry System Healer, select it, and click the Remove/Uninstall button. Alternatively, you can leave this job for an automatic malware remover, e.g. SpyHunter. It is up to you how to delete it.
Delete Healer Console
Windows XP
Click the Start button.
Select Control Panel.
Click Add or Remove Programs.
Select the unwanted program.
Click the Remove button to eliminate it.
Windows 7/Vista
Click on the button in the bottom-left corner.
Select Control Panel from the drop-down menu.
Click Uninstall a program.
Right-click on the entry of the potentially unwanted application.
Click the Uninstall button.
Windows 8/8.1/10
Launch RUN (Win+R).
Type Control Panel in the box and click OK.
Click Uninstall a program.
Select the application you wish to erase.
Click Uninstall.
In non-techie terms:
Unfortunately, you cannot be so sure that your system is clean even though you remove a potentially unwanted program Healer Console. Since there is a risk that other threats might be hiding there too, it would be smart to scan the computer with an automatic malware remover. It will detect malicious components (if there are any) on the computer and then will eliminate them all within seconds. You do not need to do that if Healer Console has been deleted with the help of an automated malware remover. It is because it has already cleaned up your PC.