Do you know what Haxerboi Ransomware is?
Haxerboi Ransomware is a customizable ransomware infection that bad people might use for money extortion. As has been observed, cyber criminals are allowed to add their BTC addresses and insert the desirable amounts of money Haxerboi Ransomware should ask after infiltrating users' computers. Therefore, we are 100% sure that users who encounter this malicious application will be asked to send money to the address indicated on the ransom note. Are you one of these users who have encountered Haxerboi Ransomware? If so, make sure you do not send money to the ransomware developer because it is unclear whether your files have really been encrypted. On top of that, even if your files were locked by Haxerboi Ransomware, it is not very likely that you would get a tool to unlock them after transferring money to cyber criminals. Therefore, our specialists have only one piece of advice for those users who find this crypto-threat on their systems – delete it completely as soon as possible. If you have never deleted a similar infection, we are sure you will need some help with its removal – the necessary information can be found in the last paragraph.
Like many other similar ransomware-type infections, Haxerboi Ransomware slithers onto users' PCs without permission illegally, but it does not mean that it manages to stay unnoticed on users' computers. Once it infiltrates computers, it immediately finds users' personal files and encrypts them with a strong cipher. Researchers say that all these files should get the .haxerboi extension appended, i.e. you will see it at the end of each file that can no longer be accessed. Additionally, the ransomware infection will open a red window on your screen. This is another clear sign that Haxerboi Ransomware is the one responsible for encrypting data on your computer. The opened window contains a ransom note. First, users are explained that many of their "documents, photos, videos, databases and other files are no longer accessible because they have been encrypted." Then, they find out that they need to send the indicated amount of money to the Bitcoin wallet address that can be found at the very bottom of the window. Since Haxerboi Ransomware is one of those ransomware infections that can be customized, the size of the ransom might vary. Do not expect the decryption tool to be very cheap – the chances are high that it will be quite expensive. Never send money to malicious software developers because, as mentioned, you do not know 100% whether your files have really been encrypted. In addition, the chances are high that you could still not unlock your files after transferring a ransom.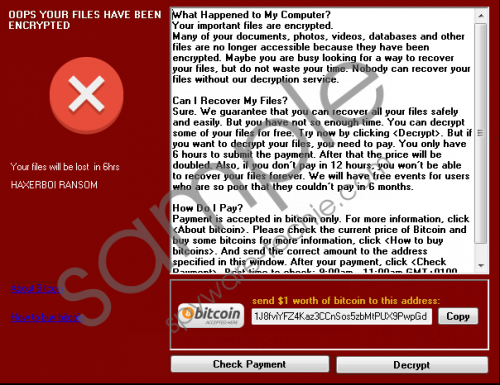 Haxerboi Ransomware screenshot
Scroll down for full removal instructions
According to our researchers, Haxerboi Ransomware is not a very prevalent malicious application, but, of course, users might still encounter it if they act carelessly and keep their systems unprotected. In the opinion of specialists, users should not go anywhere near spam emails because this infection is mainly distributed via malicious emails. In addition, it is advisable not to click on suspicious links. Last but not least, users should not browse dubious websites. Of course, it is not always that easy to prevent malicious software from entering the system, so all users must have a security application installed on their computers and keep it active 24/7. Make sure you install security software on your PC the moment after getting rid of Haxerboi Ransomware.
Our malware researchers have not found any registry entries belonging to Haxerboi Ransomware, so the chances are high that it does not even create them. This is good news because it means that it will not be that hard to erase this infection from the system completely. Actually, it should be enough to delete recently downloaded files from all the main directories to get rid of it. Use below-provided removal instructions to make it gone, or let an automated malware remover help you.
Delete Haxerboi Ransomware
Press Alt+F4 to close the window opened by the ransomware infection.
Press Win+R on your keyboard.
Type %USERPROFILE%\Downloads in the box and tap Enter.
Delete all suspicious files found in this folder.
Delete suspicious files from your Desktop (%USERPROFILE%\Desktop) too.
Empty Trash.
Use a diagnostic scanner to find out whether all malicious components have been erased.
In non-techie terms:
Haxerboi Ransomware is one of those customizable malicious applications that can be used by anyone who is looking for a way to obtain money from users easier. Like other infections under the crypto-malware category, it locks users' personal files after the successful entrance and then demands money from them. Do not pay a cent to cyber criminals even if it turns out that the decryption tool is affordable because there are no guarantees that you will get it.