Do you know what Hawker is?
Hawker is an extremely buggy program that can slither into your operating system without permission. According to our research, this infection is most likely to enter computers via clandestine Trojans. Once a malicious Trojan enters your PC – which is usually done without permission as well – it can download other threats, and Hawker might be one of them. Unfortunately, it is just as difficult to remove this threat as it can be finding it. Of course, your virtual integrity depends on this, since, if you do not find malware, your virtual security could be jeopardized. If you do not want malicious software taking over, you have to delete Hawker right away, and we can show you how.
Even though Hawker does not need permission to step into your operating system, it is not entirely invisible. In fact, all you need to do is launch Task Manager and click the Processes tab to uncover this threat. "VersionControl.exe" is the name of the process that Hawker is represented by, and this is the process that you need to terminate. Although terminating a malicious process does not equate with the removal of the threat, you must terminate it to stop malicious advertisements from popping up. Our research team has found that Hawker can connect to the Internet without permission to communicate with remote adware servers. Unfamiliar adware servers might host malicious ads, which is the reason why removing Hawker is so important.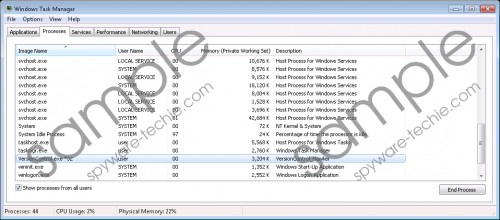 Hawker screenshot
Scroll down for full removal instructions
Some users might be able to detect Hawker by checking the list of Google Chrome extensions. Even though the new versions of this browser block Hawker, it could be installed on the older versions. Unfortunately, it is unlikely that you will be able to remove this extension as easily as you would other add-ons. Needless to say, if you can, do so immediately, as this might help stop the irritating ads, at least for some time. If you do not remove Hawker, it will start collecting information about you, and this information will be sent to businesssupervision.com. This not only might have an effect on the speed of your Internet connection but might also put your personal data at risk.
If you want to get rid of Hawker, you have to install automatic malware detection and removal software. We would love to give you an easier and more straightforward solution, but Hawker is not a regular undesirable program that you can delete using one click. Even if you uninstall this program, you will be left to deal with leftovers, and that is more difficult than most users imagine. If you believe you can handle the manual removal of Hawker, follow the guide below, but if you need help and want to reinforce the security of your operating system, install a reliable security tool.
Delete Hawker from Windows
Delete from Windows XP
Open the Start menu from the Taskbar and select Control Panel.
Double-click Add or Remove Programs and locate Hawker.
Click the undesirable program and select Remove.
Delete from Windows Vista & Windows 7
Move to the left of the Taskbar and click the Windows icon.
Select Control Panel for more options and click Uninstall a program.
Right-click the program you wish to remove and select Uninstall.
Delete from Windows 8 & Windows 8.1
Simultaneously tap Win+R to launch RUN.
Find Uninstall a program and right-click the undesirable program.
Select Uninstall to remove this undesirable program.
In non-techie terms:
You must be ready to delete Hawker from your operating system if you have read our report. If you are not experienced, it is unlikely that you will be able to remove Hawker manually. If you think you can handle this operation yourself, the removal guide below represents the first step towards success. Luckily, you can install automated malware removal software to delete all infections and protect your operating system.