Do you know what Hahaha Ransomware is?
Hahaha Ransomware has obviously nothing to do with fun and joy; the only ones laughing now are the creators of this beast. This ransomware can slither onto your computer without your knowledge and take all your most important files hostage. This means that you will not be able to use or view your files anymore, including your images, videos, text files, and archives as well. For most computer users this could be a devastating hit if they do not have a backup copy somewhere on a removable drive. Although these criminals offer you the decryption key for a certain amount of money, our researchers have only rarely seen ransomware infections where the authors really bothered to keep their promise. In other words, nobody can guarantee that you will get the unique key. We definitely recommend that you remove Hahaha Ransomware as soon as possible.
Our research shows that this malware infection is indeed a new "spin-off" of the well-known CryptoWire Ransomware and also similar to VapeLauncher Ransomware. It is possible that it spreads with fake hacking tools like Steam Cash but it can also be found spreading with spam e-mails. You need to be very careful every time you want to download any free program, cracks, and keygenerators from the web because most sites that promote these or claim to have them are suspicious torrent and freeware sites that also host several unsafe third-party ads. Downloading files from such sources or clicking on any ads on such sites can both end with malware infections like this on your system. The major difference that distinguishes this ransomware from other threats is that by the time you delete Hahaha Ransomware, it will be too late for you to save your files.
This is also why you should be much more cautious around your e-mails as well. The spam e-mail this infection is spreading in contains a file attachment that may pose as a document or image file but indeed it is a malicious executable file that will initiate this attack once you click on it to view it. In order to make you want to do so, these criminals may try to make you believe that this mail is very important as well as urgent for you to see. Since the body of this mail usually does not contain any usable information as to what this alleged matter is really about, you are quite likely to save or open the attachment for a real clue. However, instead of a real invoice, form, or document that is supposed to be about some unpaid business or wrong credit card details, you infect your system with this dangerous threat. We advise you to remove Hahaha Ransomware right after you notice it even if it means the loss of your files.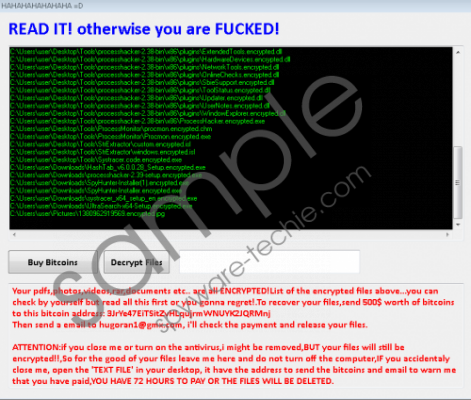 Hahaha Ransomware screenshot
Scroll down for full removal instructions
When you run this file attachment, it creates a file with the same name in your "%PROGRAMFILES(x86)%\Common Files" folder. Then, it targets your %USERPROFILE% directory and its subfolders, and encrypts all your personal files with the usual AES-256 algorithm. Since this algorithm is a built-in Windows function, the whole process should not take longer than half a minute depending on the number of files affected and the performance of your machine, of course. The infected files get a new extension (".encrypted"), which this time is inserted between the name and the original extension: "readme.encrypted.docx."
This ransomware also creates a malicious task in "%WINDIR%\System32\Tasks" that has a name with 10 random digits. This task makes sure that this malware runs automatically with every system start-up. So if you reboot your system without deleting Hahaha Ransomware, you could create more serious problems and lose further files. The ransom note text is dropped onto your desktop and is called "TEXT FILE.txt." When all the damage is done, a window pops up that lists all the encrypted files. This list is retrieved from a text file called "log.txt" which is also located in the "%PROGRAMFILES(x86)%\Common Files" folder. You can also find the ransom note typed in red at the bottom of this window. You have 3 days to transfer 500 USD in Bitcoins to the given address. If you fail to do so or you close this window, you are threatened that your files will be deleted. When you pay the ransom fee, you should send an e-mail to hugoran1@gmx.com. In a reply message you are supposed to get the decryption key. We do not recommend that you try to enter a fake key or press the "Decrypt Files" button without a working and authentic key because it would just simply restart this beast. There is only one thing we can advise you and it is to remove Hahaha Ransomware ASAP.
If you are ready to make a move on this ransomware, you can use our guide below to finish it off. It is really not that complicated to make it happen even if you are not a techie. But it is also possible that you do not want to risk leaving any leftovers behind so that this serious threat might resurrect. There is always a better and safer solution if you are not an IT expert and do not want to spend hours to try to detect all possible threat sources on your computer and eliminate them one by one. And, let us not forget about the possibility that you may let other malware infections on board in the future. This is why we suggest that you install a proper anti-malware program, such as SpyHunter, if peace of mind is important for you.
Remove Hahaha Ransomware from Windows
Tap Win+E to open File Explorer.
Delete the malicious .exe file you ran.
Delete "TEXT FILE.txt" (the ransom note) from your desktop.
Delete the related files from "%PROGRAMFILES(x86)%\Common Files" (the [random].exe and log.txt).
Remove the task from "%WINDIR%\System32\Tasks" (10 digits name)
Empty your Recycle Bin and reboot your system.
In non-techie terms:
Hahaha Ransomware is a new major threat that can ruin your day and possibly even more since it can encrypt most of your important personal files (photos, videos, documents, and archives) and only release them if you pay the demanded fee. Our researchers say that even if you were to transfer this money, there is always little chance that you will actually receive the decryption key. The cleanest way out of such a dire situation is to regularly save a backup of your files on a portable drive. You can simply copy the backup back once you remove Hahaha Ransomware. If you need an automated tool to take care of this dangerous ransomware infection for you and to protect your PC from future attacks, you should use a trustworthy malware remover.