Do you know what HackdoorCrypt3r Ransomware is?
HackdoorCrypt3r Ransomware is an infection that possesses great power. Even though it was not spreading actively at the time of research, our malware researchers have managed to find out that it can encrypt 380 different types of files, including different photo and document formats. It was also found that the threat specifically encrypts files in %USERPROFILE%\Desktop, %USERPROFILE%\Documents, %USERPROFILE%\Pictures, and %USERPROFILE%\Videos folders. Once files are encrypted, you should find the ".hackdoor" extension added to their names, and, unfortunately, you will not be able to read them. In fact, at the time of research, it was not possible to decrypt files, and victims could evade total loss only if they owned copies that were stored outside the infected machine. Can you remove HackdoorCrypt3r Ransomware to restore your files? Deleting this malware is crucial, but you cannot recover your files by getting rid of it.
It is not yet clear how HackdoorCrypt3r Ransomware spreads, but if it works like other ransomware threats (e.g., Devos Ransomware, 2048 Ransomware, or 5ss5c Ransomware), it is most likely to use spam emails, unreliable downloaders, RDP vulnerabilities, and social engineering scams to slither in. It does that silently, of course, but if the threat gets in, you need to assess your system's protection very seriously. Needless to say, if it were protected reliably, you would not be dealing with HackdoorCrypt3r Ransomware or other similar threats. If the infection manages to slither in, it quickly takes action. First, it encrypts files. Then, it turns off the UAC (User Account Control) via the Windows Registry. It also deletes shadow volume copies to make it impossible to use a system restore point, which is why it is always best to use external backups (virtual clouds or hard drives) instead of internal backups.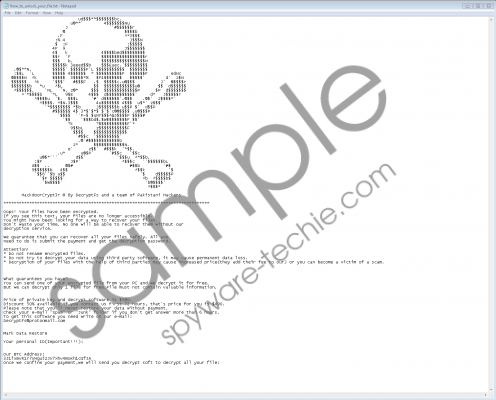 HackdoorCrypt3r Ransomware screenshot
Scroll down for full removal instructions
HackdoorCrypt3r Ransomware also drops two files. One of them is the "wallpaper.bpm" file dropped to the %TEMP% directory. It is meant to change the wallpaper to introduce you to a ransom message. The treat also drops a file named "!how_to_unlock_your_file.txt." A pop-up window should show up as soon as the threat is settled and the files are encrypted. It should state this: "Please Read the how_to_unlock_your_file file in your desktop!!!" The .txt file on the Desktop informs that you need a "decryption password" if you want to recover your files, and to obtain it, you need to pay a ransom of $490 (if paid within 72 hours) to the attacker's Bitcoin wallet (3J1ixBvR1r7VHgu5zJV7Xhv4moKh1cGfJA) and then confirm the payment by contacting them at DecryptFs@protonmail.com. At the time of research, one transaction had been recorded, but we cannot confirm if the payment was made by a HackdoorCrypt3r Ransomware victim. Overall, paying the ransom is a bad idea because a decryptor is highly unlikely to be sent in return. Unfortunately, that is how most ransomware threats operate.
You will not be able to delete HackdoorCrypt3r Ransomware successfully unless you find and delete the .exe file that launched it. We do not know where this file is, but you can try eliminating recently downloaded files to get rid of it. Besides the launcher, you also need to erase the .txt and .bmp files used to deliver the ransom note, but that shouldn't be too difficult to achieve. Since manual removal is too complicated and confusing, and since your operating system lacks reliable protection, we advise installing anti-malware software. It will automatically remove threats and secure your Windows system.
Remove HackdoorCrypt3r Ransomware
Delete recently downloaded suspicious files.
Delete the ransom note file named !how_to_unlock_your_file.txt from the Desktop.
Simultaneously tap Win+E keys to launch Windows Explorer.
Type %TEMP% into the field at the top and tap Enter to access the directory.
Delete the file named wallpaper.bmp and then set the desired wallpaper.
Empty Recycle Bin and then quickly install a malware scanner to check for leftovers.
In non-techie terms:
HackdoorCrypt3r Ransomware is a dangerous threat, and while we have yet to find out if it starts spreading actively, it needs to be taken seriously. Our researchers strongly recommend implementing security software to keep this threat away, and it is also important to backup all personal files somewhere outside the computer. That way, even if ransomware encrypts all files, you will have backups to replace them. If the infection got in already, its removal and Windows protection need to be on your mind. That is why we recommend choosing the automated HackdoorCrypt3r Ransomware removal option. Install an anti-malware program you can trust, and you will not need to worry about the threat or your system's protection. Hopefully, you will be able to replace the encrypted files with backups afterward. Even if you do not have that option, we still do not recommend paying the ransom.