Do you know what Gyt.coreopt.net is?
Gyt.coreopt.net is not a website you will visit yourself. In fact, entering this URL into the address bar will open a blank page, and so there is no point in doing this. Nonetheless, the domain is active and it can be used to present adware. The so-called ad rotation server enables advertisements which belong to undisclosed third parties. Needless to say, the communication is based on financial profit, and so you should not expect all of the displayed ads to be beneficial. In fact, it would be best to delete Gyt.coreopt.net in order to ensure that misleading ads cannot be presented to you as well. Unfortunately, misleading advertisements could be displayed on the pages you visit, and this is a great risk you should avoid at all cost.
It has been revealed that such advertising domains as Gyt.coreopt.net, Gos.drivedo.net, Ndo.coreopti.net, and others often run with the help of Lyrics family browser extensions. Have you downloaded a plugin promising you to show lyrics to the songs you listen to on YouTube? Whether you have downloaded the application yourself or it was installed illegally, you definitely should not trust extensions which can connect to remote servers without your consent. The pop-up ads which are presented via Gyt.coreopt.net may present unreliable pop-ups as well as authentic offers. Can you identify authentic and misguiding ads? This is extremely difficult, and we recommend that you remove Gyt.coreopt.net in order to eliminate all risks.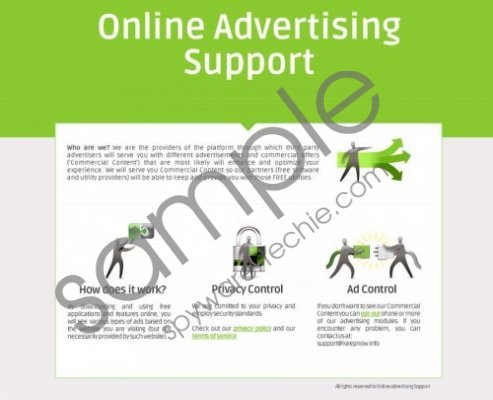 Gyt.coreopt.net screenshot
Scroll down for full removal instructions
Install automatic spyware detection and removal applications to locate and delete Gyt.coreopt.net adware from the operating system. If you think you are capable of completing the removal manually, you should start with the manual removal guides below. Afterwards you should remove the remaining adware files and other potentially undesirable programs. Make sure you remove all potential threats and do not make any mistakes while doing that. If you are not experienced with malware removal, you should install automatic malware removal software to ensure that your PC is safe to run.
Delete adware
Delete from Windows XP:
Open the Start menu and click Control Panel.
Select Add or Remove Programs and then Change or Remove Programs.
Remove the undesirable software.
Delete from Windows Vista and Windows 7:
Navigate to the left of the Task Bar and click the Start icon.
Open the Control Panel menu and click Uninstall a program.
Right-click the program you wish to remove and then click Uninstall.
Delete from Windows 8:
Right-click on the Metro UI menu to open a pane below and select All apps.
Open the Control Panel and then click Uninstall a program.
Find the application you wish to remove, right-click it and select Uninstall.
In non-techie terms:
Gyt.coreopt.net is a server which serves third parties and which presents online adverts with the help of advertisement supported software. In order to eliminate the irritating ads, you need to locate and remove Gyt.coreopt.net related adware. This is something automatic malware removal software can deal with; however, if you are experienced and you are sure that you can delete adware manually – follow the guides above and then erase the remaining components manually.