Do you know what Guruofsearch.com is?
Guruofsearch.com is a browser hijacker, and like most such applications, it may change your browser's preferences. Many users find this quality irritating, and if you do so too, we can help you get rid of this application. All you have to do is follow the removal guide available at the end of this report. Also, the tool can be erased with a reputable antimalware tool if it is easier for you. Of course, if you would like to learn more about this browser hijacker and only then decide whether it should stay on the system or not, you should continue reading our article. Further, in the text, we talk about the application's working manner, its possible distribution channels, and so on. If we have not mentioned something that you wish to learn about Guruofsearch.com in the article, feel free to leave us a comment below it.
The browser hijacker might be traveling with various extensions that could be classified as potentially unwanted programs. Thus, naturally, if Guruofsearch.com settled in on your browser, it might be a good idea to check whether you did not install any questionable extensions, toolbars, or plugins recently. Also, to make sure you do not encounter such applications in the future, we advise taking some extra precautions. Before installing any tools, you should always make sure they come from reliable developers and that you download them from legitimate websites. In other words, it would be best to keep away from sites offering pirated software, unknown freeware, etc. Our computer security specialists also say users ought to be careful with tools promoted on pop-ups that could appear after entering doubtful websites. Of course, having a reputable antimalware tool that could identify unreliable content would be helpful too.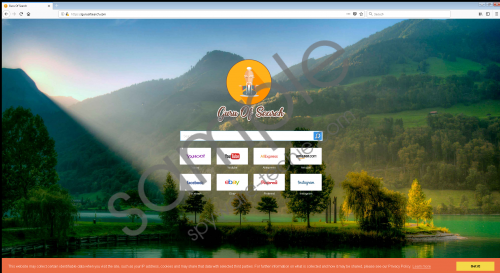 Guruofsearch.com screenshot
Scroll down for full removal instructions
The research shows Guruofsearch.com might be able to change user's homepage, new tab page, or search engine on browsers like Internet Explorer, Mozilla Firefox, and Google Chrome. While it may look like any other browser, you should know it could redirect your search queries to a modified Yahoo search engine. This might result in additional third-party ads among search results. Such ads could be both annoying and possibly unreliable as it is unknown where they could come from. They may not be malicious, but the ads could promote other browser hijackers, potentially unwanted programs, unreliable websites, and so on. Thus, it might be safer to use the original Yahoo search engine or any other reputable search engine. If you think so too and do not want to continue using Guruofsearch.com, you could get rid of it and pick another search engine to surf the Internet.
Our provided removal guide can tell you how to remove the browser hijacker manually. The process could seem complicated as you may need to locate applications related to the browser hijacker on your own and erase them. If after checking the instructions available below you realize the process is too complicated, we advise downloading a trustworthy antimalware tool instead. Scan your computer to it and erase detected threats along with Guruofsearch.com by pressing the tool's provided removal button.
Erase Guruofsearch.com
Mozilla Firefox
Tap CTRL+SHIFT+A simultaneously.
Choose Extensions.
Locate an extension/toolbar associated with Guruofsearch.com.
Press Remove.
Restart your browser.
Google Chrome
Press ALT+F.
Pick More tools and select Extensions.
Search for an extension related to this browser hijacker.
Press Remove and select Remove.
Relaunch the browser.
Internet Explorer
Open your computer's Start menu and select Control Panel if you have Win XP/Win Vista/Win 7.
Tap Windows Key+R, type Control Panel and press OK if you have Win 8 or Win 10.
Pick Uninstall a program/Add or Remove Programs.
Find an extension/toolbar related to this browser hijacker.
Select it and click Uninstall.
Exit Control Panel.
In non-techie terms:
Guruofsearch.com is similar to applications like Super-search.org, Mysupersearch.net, Startsearch.org, Searchmaster.net, and others. Same as the mentioned tools it was classified as a browser hijacker, a program that settles in on a user's browser by replacing its homepage, search engine, or a new tab page. Another thing you ought to know if you receive this application is that the search engine could show third-party ads, which may not necessarily be reliable. If you do not like this idea and do not want to risk receiving such content while browsing you may want to get rid of this browser hijacker. In which case, we advise either using our removal guide available a bit above this paragraph or a reputable antimalware tool that you like.