Do you know what Gsrch.com is?
Gsrch.com is a browser hijacker, and it can take over your homepage and default search engine. Have you found the changes made without permission? Did you agree to have your regular search tools replaced? In either case, this is a hijacker, and it requires elimination. You can read this article to learn the reasons why we suggest removing Gsrch.com from your browsers, but we can tell you right away that it does not provide authentic or reliable services. This search tool is too mysterious and unpredictable to trust, and, unfortunately, you run a risk of encountering serious security issues by using it. If you do not care about learning more about this hijacker, and you simply want to eliminate it from your PC as soon as possible, you can scroll down below to see the full removal guide.
Bundled installers are likely to be used for the distribution of Gsrch.com. If you install this program along with other threats, your virtual security might be in more trouble. Although we advise deleting this hijacker from your PC, we can assure you that there are far worse threats that could invade your operating system. A malware scanner can help you with all your doubts regarding the existence of unreliable, malicious programs. In the best case scenario, you will find that the hijacker is the only threat that you need to worry about. According to our research, Gsrch.com is hosted on 91.250.81.8 IP, and it is mostly spread in Yemen (36.1%) and Iran (22.9%). It is also hosted on the same server as updatestar.com. It appears that UpdateStar is the owner of this hijacker, and we can see that from the only source of information associated with this hijacker, the Contact form at gsrch.com/contact.html. This page provides a direct link to updatestar.com, and provides the contact details of this company.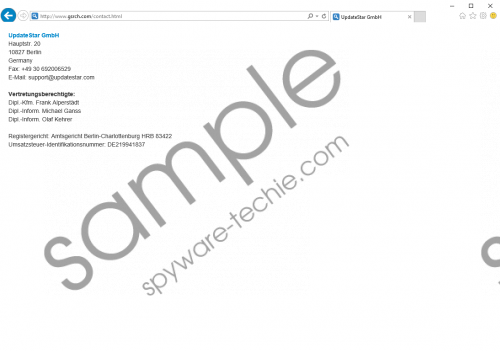 Gsrch.com screenshot
Scroll down for full removal instructions
It is worth mentioning that Gsrch.com only affects Internet Explorer. This web browser comes pre-installed on every Windows system, so it is not surprising that this is the browser that was chosen. Once installed, this hijacker will greet you on startup, and it has the logo of Google. In fact, it is not Google, but Google Custom Search that is used to represent results for your search queries. Besides providing the regular web search tool, it also shows links to Images, Maps, News, Books, Places, Blogs, and other search tools, all of which lead to google.com. Needless to say, this search tool is reputable, but that does not make Gsrch.com any less suspicious. The web search tool displays search results that show up with advertisements. Our research team warns that the results could be modified to trick you into clicking on links that might bring profit. Using a pay-per-click system, the creators of this suspicious hijacker can earn money for every click you make on a sponsored link. Can these links route you to malicious and unreliable websites? The possibility is always there.
Do you know how to reset your Internet Explorer browser? You can reset your browser to get rid of the hijacker, or you can follow our instructions below. Make sure you perform all steps carefully; otherwise, you might need to repeat the process. Once you are done with this hijacker, scan your PC to identify the remaining malicious programs and research them carefully to learn how to eliminate them. Of course, you do not need to waste time eliminating them one by one. Instead, you can install an automated malware remover to erase them all simultaneously. If you choose to install anti-malware software, make sure you keep it updated to prevent the infiltration of all infections, including the most recent ones.
Delete Gsrch.com from the PC
Launch RUN (Win+R) and enter regedit.exe.
Navigate to HKCU\SOFTWARE\Microsoft\Internet Explorer\ and click Main.
In the pane on the right right-click the Start Page value and select Modify.
Edit the Value data and click OK.
Navigate to HKCU\SOFTWARE\Microsoft\Internet Explorer\SearchScopes\[CLSID number].
Check the Data section to see the URL of the hijacker. If you find it, right-click the value and Modify it.
Navigate to HKCU\SOFTWARE\Microsoft\Internet Explorer\LowRegistry\DOMStorage\.
Right-click and Delete the keys www.gsrch.com and gsrch.com.
In non-techie terms:
We recommend deleting Gsrch.com because it is a hijacker. This hijacker replaces your search tools and forces you into using a strange provider that, instead of showing legitimate links, provides sponsored links. The objective behind this is to gain a profit by promoting third-party content. If you interact with the ads shown, a commission might be made. This is not only not beneficial but also dangerous because schemers often exploit this vulnerability to introduce users to scams. The removal guide above will help you remove the hijacker, but you also need to stay on top of the remaining threats. We suggest eliminating them using anti-malware software.