Do you know what Groover is?
Groover is an adware application that promotes third-party content with the intention to make easy money for its creators. With this program installed on your computer, you will encounter commercial advertisements for all the major online shopping malls, including Walmart, Amazon, eBay, BestBuy, and many others.
Unlike most of its cousins, Groover presents more problems when you try to remove it because it adds a .dll (a dynamic link library) file that helps it generate and display the advertisements. This file cannot be deleted from your computer automatically, but there is a way around this situation. You can replace the file and get rid of Groover for good if you follow our instructions.
There are quite a few ways that this application could have entered your computer. For one, it could have been installed in a software bundle. Software packages are available for download at third-party file sharing websites, torrent pages, and other sites that promote and distribute freeware. Since they seldom review what kinds of installers are uploaded to their servers, they provide a practical distribution medium for software and malware developers.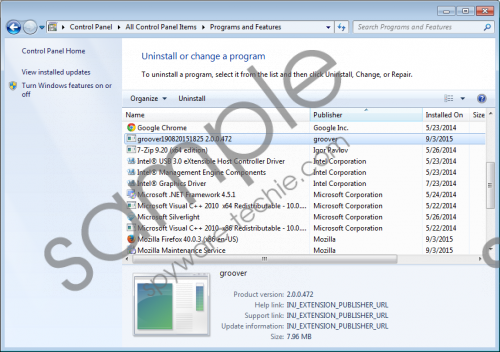 Groover screenshot
Scroll down for full removal instructions
Second, Groover could have been installed on your computer accidentally when you opened some random adware-related page or when you clicked a pop-up that jumped right into your face while you were browsing. Either way, the point is that this adware application may enter your computer in an inconspicuous manner, and, for a time being, you may not even know that you have such a potential threat on-board.
However, it will not take long for Groover to rear its nasty head. The adware program will start collecting information on your web browsing habits, and it will soon spam you with commercial advertisements for the supported websites. The program behaves just like LaSuperbra, Daugava, Shopperz, Jabuticaba, and other undesirable applications. Therefore, if you know where this program has come from, you know exactly what to expect of it.
You should NEVER click any of the Groover ads because you can never know where they might lead you. Please do not forget that adware programs can be easily exploited by cyber criminals for theft of personal information and even for malware distribution. Before you know it, you could get infected with browser hijackers, Trojans, ransomware programs, and many other threats.
Hence, the sooner you delete Groover, the better. You can uninstall this application via Control Panel, but, as mentioned above, that will not be enough to get rid of all the adware files from your computer. Please follow closely our instructions on how to replace the .dll file, to make sure that this adware program does not regenerate on your PC.
What's more, it is strongly recommended that you acquire a powerful antispyware application to detect and remove other potential threats. After all, adware programs seldom get installed on their own, so you need to terminate all the potentially unnecessary applications that arrived in the same bundle.
If you encounter any difficulties while trying to remove Groover and other unwanted applications, let us know by leaving a comment. Our team will get back to you as soon as possible.
How to Delete Groover
Windows 10, Windows 8.1 & Windows 8
Press the Windows key+R and the Run command will open.
Type "control" into the Open box and click OK.
Go to Uninstall a program and remove Groover.
Windows Vista & Windows 7
Click the Start menu button and navigate to Control Panel.
Select Uninstall a program and remove Groover.
Windows XP
Open the Start menu and go to Control Panel.
Open Add or remove programs and uninstall Groover.
Replace the dnsapi.dll File
SysWOW64
Press the Windows key+R and the Run command will open.
Type C:\Windows\SysWOW64 in the box and click OK.
Press the Windows key+R again.
Enter C:\Windows\winsxs and press OK. Another window will open.
Type dnsapi.dll into the search box at the top right of the page.
Locate the newest dnsapi.dll file in C:\Windows\winsxs\wow64…
Transfer the located file into the C:\Windows\SysWOW64 directory.
Replace the file.
Amd64
Press the Windows key+R and the Run command will pop up.
Type C:\Windows\System32 into the box and click OK.
Press the Windows key+R again.
Enter C:\Windows\winsxs into the box and press Enter.
Type dnsapi.dll into the search box of the new window. Press Enter.
Located the latest version of the file in C:\Windows\winsxs\amd64…
Transfer the file to the C:\Windows\System32 directory and replace the old file.
In non-techie terms:
Groover is an annoying application that can also be rather frustrating because it might be hard to remove on your own. When you get infected with adware, you have to make sure you delete all the unwanted and malicious programs immediately because adware programs often lead to severe computer security issues. For an alternative software removal method, please refer to the secondary set of instructions below this article.