Do you know what Grod Ransomware is?
As you can probably tell, Grod Ransomware is a malicious computer infection. What's more, its name tells you about its category. Yes, it is a ransomware infection, and thus, it holds your data hostage, expecting you to pay the ransom fee. Should you ever pay anything to Grod Ransomware? Definitely not. Remove Grod Ransomware from your computer today, and then explore all the possible file recovery options. If you feel you are in a pinch, do not hesitate to address a professional for further assistance. After all, your cybersecurity should be one of your top priorities.
The truth is that Grod Ransomware one of the many programs from the STOP Ransomware family. Needless to say, we have discussed similar applications from this infection family before. So, for example, Seto Ransomware, Ccryptor Ransomware, Kvag Ransomware are all programs from the same group, and we can expect Grod Ransomware to be very similar to its predecessors.
The thing with STOP Ransomware is that some of the infections CAN be decrypted if the files were encrypted with an offline key. Unfortunately, our research team says that Grod Ransomware cannot be decrypted yet. It means there is no public decryption tool available for this particular infection. Thus, the best way to retrieve your files is to transfer them back into your computer from an external hard drive or some other backup.
Here you might say, what am I supposed to do if I have no file backup? Well, you probably have the latest files saved on your mobile device. Also, maybe bits and pieces are available in your inbox or some other device, or flash storage. The point is that there is always a way to recover at least some of your data, so you should not panic.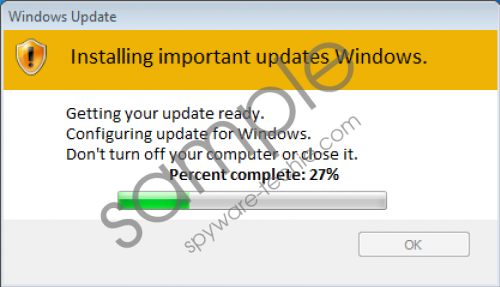 Grod Ransomware screenshot
Scroll down for full removal instructions
However, along with removing Grod Ransomware from your system, protecting your computer from similar infections is just as important. Please learn more about ransomware distribution, so you could prevent similar intruders from barging into your computer.
So, how does Grod Ransomware spread around? The truth is that this infection employs the most common ransomware distribution method: spam emails. It means that users download and install malware on their computers willingly because they get tricked into thinking that they must open some important document. But please be careful about emails that claim you have received something important.
Think about it: have you been waiting for this email? Do you know the sender? Does the wording in the message look odd? Is the message urgent? Normally, spam emails come with a very urgent message that is devised to push the user into downloading the attached file no questions asked. Needless to say, if users end up doing that, they infect their systems with Grod Ransomware and other similar programs.
If that happens, you can be sure that your files will be encrypted, and then you will see the following message on your screen:
ATTENTION!

Don't worry, you can return all your files!
All your files like photos, databases, documents and other important are encrypted with strongest encryption and unique key.
The only method of recovering files is to purchase decrypt tool and unique key for you.
This software will decrypt all your encrypted files.
<…>
Price of private key and decrypt software is $980.
Discount 50% available if you contact us first 72 hours, that's price for you is $490.
The message displayed by Grod Ransomware is practically identical to all the other ransom notes shown by other programs from the STOP Ransomware family. You are given the email you have to use to contact these criminals, but you definitely know better than that.
Please use the manual removal instructions below remove Grod Ransomware for good. Manual removal might be a bit bothersome, so if you do not want to deal with that on your own, just delete the infection with a reliable antispyware tool. By investing in a powerful security application, you will be able to protect your system against similar intruders in the future. However, please bear in mind that your own behavior online is just as important, and if you are not careful enough, sometimes even the most expensive antispyware application won't help you.
How to Remove Grod Ransomware
Press Win+R and type regedit. Click OK.
Go to HKEY_CURRENT_USER\Software\Microsoft\Windows\CurrentVersion\Run.
On the right side, right-click the SysHelper value with a long random path.
Select to delete the value, exit Registry editor and press Win+R.
Type %AppData% into the Open box and click OK.
In the directory, delete the script.ps1 file and a folder with a long random name.
Delete all recently downloaded files.
Press Win+R and type %WinDir%. Click OK.
Go to System32/Tasks and delete Time Trigger Task.
In non-techie terms:
Grod Ransomware is a dangerous infection that will lock up your files, and they will require you to transfer a ransom fee for the decryption key. No one should ever pay anything to these crooks. Please remove Grod Ransomware today, and then look for ways to restore your files. You have to realize that sometimes it might not be possible to restore every single file, but it shouldn't be daunting to start accumulating your data library anew.