Do you know what Greatzip Ads are?
Greatzip Ads are a type of advertisements that should appear on your screen when you browse the web. For the most part, these ads are not malicious and they are not dangerous. However, the content they promote could be associated with unreliable third parties. Therefore, it would be for the best to get rid of Greatzip Ads for good. To do that, you need to remove the program that is generating those ads. The program that generates the ads is called Greatzip, and you can easily remove it from your computer. For manual removal instructions, you can scroll down to the bottom of this description.
It is unclear why Greatzip Ads surfaced again, because the program they belong to is a rather old potentially unwanted application (PUP). Various tests show that the official website for this program (greatzip.com) first appeared in 2012, so it is rather odd as to why such an application is back again after 5 years. Normally, potentially unwanted programs have a pretty high rotation rate. Our research team suggests that the program is probably included in some pop-up links that distribute freeware, and thus users end up installing Greatzip on their computers accidentally.
Now, what is Greatzip in the first place? If we take a look at its official website, we would see that the application targets English and Spanish-speaking markets because it offers a menu in those languages (likewise, it could also target the Spanish-speaking population in the United States). The application is promoted as the "best file compressor" that can "zip and unzip files instantly, protect files with banking-level AES encryption, connect with SkyDrive, Dropbox and Google Drive, and zip and send large files by email." This would make it seem that the application is a pretty useful tool, but now why are users so suspicious about it and the ads it displays?
That is mostly because the program and the Greatzip Ads seemingly appear out of nowhere. Let's be honest here: If you did not download the application from its official website, you probably would be confused to find it on your computer. The program itself is based on the 7-zip 9.21 build, and if you already have this application, you would have no need of a simple rip-off. The truth is that this application could have entered your PC with a bunch of other freeware applications.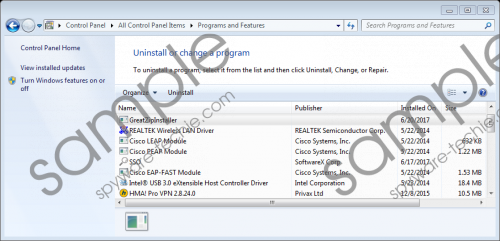 Greatzip Ads screenshot
Scroll down for full removal instructions
According to our research, the application is related to Open Download Manager, which is also a potentially unwanted program, and both applications share the same IP address. Perhaps you downloaded some freeware app from a file-sharing website and you went through the installation automatically. When you do that, you miss the chance to avoid installing unnecessary programs on your PC. Of course, most of the time the installation process is default, but it is always a good idea to check the wizard step by step, because you can never know what additional features or programs you might be adding to your system.
Greatzip Ads cannot cause a lot of trouble, but if the advertisements continue to appear on your screen, they may slow down your browser and expose you to potentially corrupted content. Also, the fact that Greatzip displays commercial ads means that the program may collect information on your web browsing habits. Quite a few freeware applications do that, and users often are not aware of that. However, if you encounter commercial ads that are seemingly tailored to your likes and preferences, it means that something tracks your online activity with tracking cookies. And sometimes, this tracking could be used for online marketing purposes.
Needless to say, such program behavior is intrusive and sometimes risky. You should remove Greatzip from your computer to get rid of the ads for good. Luckily, it is possible to uninstall the application via your Control Panel. It should be enough to get rid of the ads, but if you are worried you may have more potential threats on-board, you can always scan your PC with the SpyHunter free scanner.
Removing potential threats automatically is the fastest and the most efficient way to terminate all the unwanted applications. Also, a computer security tool of your choice will help you ensure your system's security in the near future.
How to Delete Greatzip Ads
Windows 10 & Windows 8.1
Press Win+R and the Run prompt will open.
Type Control Panel into the Open box and press OK.
Click Uninstall a program and remove the application.
Windows Vista & Windows 7
Open the Start menu and go to Control Panel.
Select Uninstall a program and delete Greatzip.
Windows XP
Press the Start button and navigate to Control Panel.
Double-click Add or remove programs and uninstall Greatzip.
In non-techie terms:
You may find that Greatzip Ads are more annoying than dangerous, but you should not tolerate such things if you were not the one who installed the program behind them. Or maybe you did install the application, but you were not aware of it. Either way, it is for the best to remove potentially unwanted applications from your computer because they could get exploited by cyber criminals for malware distribution. For more information on the issue, please do not hesitate to leave us a comment.