Do you know what GoSave is?
GoSave is a browser extension which our researchers warn to stay away from. The program is extremely clandestine, and it may enter the operating system without any warning from existing security software. This is because the disturbing application can be installed using different names (e.g., GgoSavve or GoeSave). If you do not delete GoSave from the system right when it gets installed, web cookies will be activated to record certain information. These cookies are unlikely to collect sensitive information; however, they could store your IP address, browsing history, and other information that could help online advertisers. If you remove the cookies, it is most likely that the stored data will be removed as well. The article reviews a few different ways to delete this undesirable software.
There is no doubt that GoSave is an advertisement-supported program (adware). The application collects certain information, shares it with third-parties, connects the system to advertising domains, and helps the representation of various types of online advertisements. According to our researchers, GoSave mostly displays pop-up and banner coupons, all of which display links to third-party sites. Unfortunately, some of these sites may be misleading and promote misleading deals, surveys, installers, etc. The same risks are related to Webbing, FuNNDeals, CodecEX, and other infamous adware distributed by InstallRex installers. We have prepared individual removal instructions for each of these programs; however, there is a way to delete all of these programs without much of your own interference.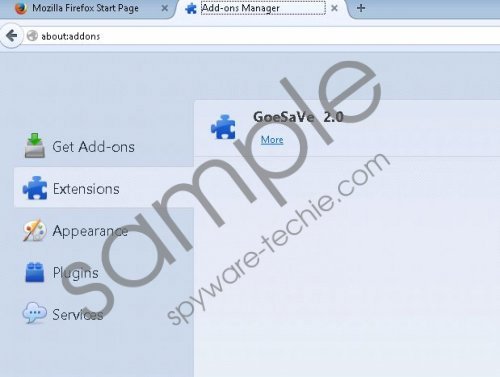 GoSave screenshot
Scroll down for full removal instructions
Do you know how to delete GoSave quickly and stress-free? All you have to do is install a trustworthy and legitimate automatic malware remover. This program will ensure that malware running on the PC is deleted successfully in no time. The best part is – you will not need to do anything but click a few buttons confirming the removal. Of course, some computer users will choose to remove GoSave manually; however, this means that they will need to delete additionally running threats by themselves as well. Furthermore, they will need to ensure Windows protection, which is not so easy to do if appropriate tools are not assisting.
Delete GoSave from Windows
Delete from Windows 8:
Access the Metro UI menu, right-click and select All apps.
Open the Control Panel and then click Uninstall a program.
Right-click and Uninstall the undesirable software.
Delete from Windows Vista & Windows 7:
Click the Windows logo on the Taskbar to open the Start menu.
Open the Control Panel and move to Uninstall a program.
Right-click the program you wish to remove and choose Uninstall.
Delete from Windows XP:
Click the Start menu button on the left of the Taskbar.
Double-click Add or Remove Programs to find the desired uninstaller.
Select the undesirable program and Remove it.
In non-techie terms:
You should remove GoSave from the operating system because this browser extension is not reliable or useful. The program is set to introduce you to suspicious advertisements promoting links to third-party sites. Needless to say, this may be dangerous, and so we recommend having GoSave deleted. Use the manual removal instructions above or install automatic malware removal software. The guides below can help you with the process as well.