Do you know what GOSafer is?
If you are looking for an application to boost your virtual security, you must know that GOSafer is not an application that you should use. This is so because it has been discovered that this program is nothing more than your average adware application. In most cases, this ad-supported program is advertised as a program that should improve your web browser's virtual security by far. It should warn you about dubious third-party websites or suspicious and potentially malicious downloads. This might seem like a great application to have, unfortunately, in reality this program does nothing like that. All that it is capable is causing major disturbances to your web surfing experience. It is quite the opposite of what it is advertised for. Do not get fooled by these hoax advertising strategies and stay away from this adware. Our researchers have crafted a detailed removal guide that will help you delete GOSafer in not time once and for all.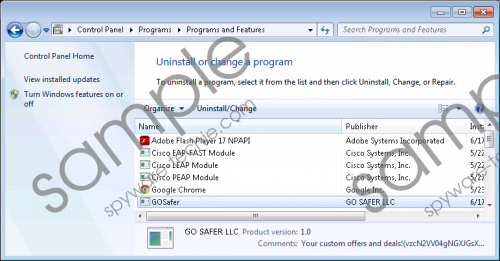 GOSafer screenshot
Scroll down for full removal instructions
As soon as this adware program enters your operating system it will almost instantly flood your web browser with numerous third-party commercial ads and annoying ads. In most cases, all of this intrusive third-party web content will be presented to you in an utterly random way whether you like it or not. This will make your online experience a miserable one since you fill not be able to use the web the way you are used to. Fighting through tons of unwanted ads and annoying pop-ups will become a daily ritual as long as GOSafer is active on your operating system. All of this unwanted web content is presented because of the background service that was inserted by this adware. The service is called gosafer.exe and you can kill it via Task Manager; however, this will not be enough to stop the intrusive activity that this adware provides. This is so because the malicious system service will be restarted with a system restart. To completely get rid of all that unwanted third-party content, you will need to conduct a thorough removal of GOSafer as soon as possible.
While it is possible to download GOSafer from its official website since the direct download links functions, quite a few users report that they did not install this program consciously. This signifies that GOSafer is probably distributed in some other questionable way. While researching it has been found out that this intrusive adware application like many other Internet-based infections of today is distributed via software bundles. If you wish to significantly reduce the risk of getting your PC infected make sure to install reliable antimalware tool. Such a tool would always warn you about any suspicious or malicious installers as well as it would warn you about any suspicious websites.
Do not delay the removal of GOSafer since the annoying activity will bother you as long as this adware program is active. It is also paramount to remove every single bit of this intrusive adware program because even a few leftover files or registry entries could be used to silently restore GOSafer. To avoid such instance, you need to conduct an in-depth analysis of your PC for potential leftovers once you have executed the manual removal.
How to delete GOSafer from your operating system
Windows Vista and Windows 7
Click the Windows button and then go to Control Panel.
Click the Uninstall a program option.
Select GOSafer and then click the Uninstall button.
Windows XP
Click Start and then select Control Panel.
Click Add or Remove Programs.
Right-click the unwanted program.
Select the Uninstall option.
Windows 8
Move your mouse cursor to the lower-left corner of the screen.
Right-click and then select Control Panel.
Click Uninstall a program.
Double-click the unwanted program.
Confirm that you want to remove it.
In non-techie terms:
Do not hesitate to use the removal guide that we provide below if you find manual removal and manual analysis of your PC too complicated. The removal guide provided below will help you delete this adware program in a quick and easy way without encountering any major problems.