Do you know what Gorgon Ransomware is?
Gorgon Ransomware seems to be a dangerous infection since not only it encrypts user's files, but also gathers information while he browses the Internet. Therefore, our researchers say it would be best not to wait too long and eliminate the malware before it can collect any sensitive data. The malicious application's deletion will not undo the results of the threat's performed encryption process, but if you have backup copies, you can replace affected files with them to restore locked data. To erase Gorgon Ransomware users should either follow the removal guide available below this text or employ a reputable antimalware tool that could deal with it for them. If you are still not sure what you should do, we invite you to read the article first, so could learn more about the malware.
No doubt you may want to get rid of Gorgon Ransomware and forget all about it as soon as possible. However, after encountering such a threat it is vital to learn more about it, especially where it comes from, so you would understand how to avoid similar malicious applications in the future. Our computer security specialists say it might be spread with unreliable software installers, email emails, and other data alike. It could come from Spam emails or malicious file-sharing web pages, which is why we highly recommend avoiding questionable email attachments or links, as well as downloading data from torrent or similar file-sharing sites. If you are having trouble with separating potentially dangerous content from harmless one, you should pick a reputable antimalware tool that could help you with this task.
Soon after Gorgon Ransomware infects the computer, it should start encrypting various pictures, photos, documents, archives, and other private data belonging to the user. Each file is supposed to be marked with the .[buy-decryptor@pm.me] extension, so the user would notice what has happened and lean the hackers contact email address. Additionally, the malware ought to change the user's Desktop image, drop three ransom notes, each written in a different language, and open a pop-up window. The notification shows the same ransom note available in the mentioned documents, and the user can read it in one of the following languages: Korean, Chinese, and English. The message states the hackers have a decryptor the victims can purchase to decrypt their files for 0,3 Bitcoin. The reason we do not recommend paying the ransom, even if you can afford it, is because there are no guarantees the hackers will deliver the promised tool. In other words, it is entirely possible they might scam you.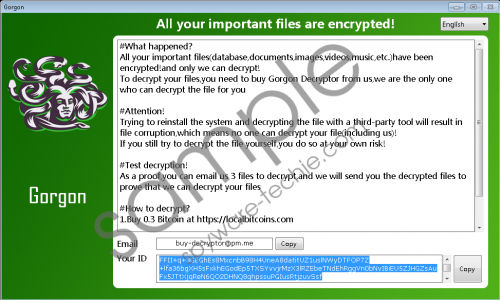 Gorgon Ransomware screenshot
Scroll down for full removal instructions
We wish to stress that while the malware is installed, it could try to spy on you by collecting information from your browser. Thus, if you do not want to put your privacy at risk and have no wish to risk losing your money, we recommend deleting Gorgon Ransomware at once. It can be eliminated with the removal guide available below this paragraph. Also, users who do not feel up to the task could employ a reputable antimalware tool and let it erase Gorgon Ransomware for them.
Erase Gorgon Ransomware
Click Ctrl+Alt+Delete simultaneously.
Pick Task Manager.
Take a look at the Processes tab.
Locate a process associated with this malicious program.
Select this process and tap the End Task button.
Click Windows Key+E.
Navigate to the suggested paths:
%TEMP%
%USERPROFILE%Desktop
%USERPROFILE%Downloads
Find a file launched when the system got infected, right-click the malicious file and select Delete.
Go to:
%USERSPROFILE%\Desktop
%HOMEDRIVE%
Locate the malware's ransom notes; right-click them and press Delete.
Close File Explorer.
Empty Recycle bin.
Restart the computer.
In non-techie terms:
Gorgon Ransomware is a threat that makes user's data unusable and then displays a ransom note demanding to pay for its recovery. What is unusual about this particular infection is that it can spy on the user. Our computer security specialists noticed the malicious application tries to record user's browser history, passwords, and so on. Therefore, the malware is dangerous not only to the files available on the device but also to the user's privacy. Needless to say, it would be smartest to erase the infection before it manages to gather any sensitive data. As for contacting the hackers or paying the ransom, we recommend against it since there are no guarantees the hackers will deliver the promised decryptor. If you do not think it is wise to trust such people either, we encourage you to erase the malicious application with the removal instructions available below or a reliable antimalware tool of your choice.