Do you know what Google Image Downloader Chrome Extension is?
Google Image Downloader Chrome Extension should allow the user to download a few chosen pictures found via Google search engine at the same time, but according to our computer security specialists, this feature does not work. The situation raises a question what the application does after entering the system if it does not do what it is supposed to? Unfortunately, it is hard to tell as it seems the software's creators do not provide a lot of information about it. No doubt, our researchers found it suspicious and so they decided to classify Google Image Downloader Chrome Extension as a potentially unwanted program. It means the tool could be unreliable or act undesirably. Those interested in the application could learn more about it by reading the rest of this text. As for users who wish to get rid of it at once we would recommend using the removal guide placed at the end of the main text.
Google Image Downloader Chrome Extension seems to be available on Chrome Web Store page, but our computer security specialists are almost one hundred percent sure it could also come from sources like redirects, irritating pop-ups or banners, untrustworthy file-sharing web pages, and so on. For those who obtained the potentially unwanted program this way, we advise taking extra precautions in the future. Before pressing the installation or download button, it might be a good idea to check who published the software and how good it is considered to be among computer security specialists, especially if you encounter it while visiting sites distributing pirated programs or questionable freeware. Same should go for extensions and other applications promoted on pop-up advertisements, sponsored links, etc. In case you find the software was published by an unknown developer or has terrible reviews, it would be advisable not to install it. Last resort could be getting a reputable antimalware tool since it may help you recognize potential threats too.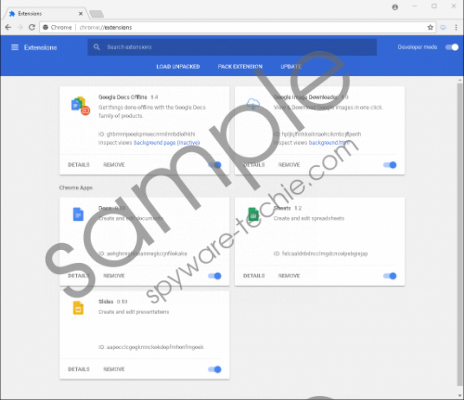 Google Image Downloader Chrome Extension screenshot
Scroll down for full removal instructions
From what we saw while testing Google Image Downloader Chrome Extension, it looks like the extension does not alter user's browser preferences and the feature it is said to have does not appear to be working too. As mentioned earlier the application promises the user will be able to "Download and View images quickly on Google Images without needing to click on each image individually and manually download it." However, given this feature does not seem to work and the potentially unwanted program does not have the Privacy Policy or End User License Agreement documents, we suspect it could be possibly dangerous to leave it unattended. The mentioned papers should state if the tool can gather private or other information, how such data could be used or with whom it might be shared, and so on. Obviously, without such statements, we cannot answer these questions. Since Google Image Downloader Chrome Extension is classified as a potentially unwanted program, we would not be surprised if it would eventually start gathering user's data to show targeted ads. In case you see such content, we recommend being cautious because there might be not knowing where it may come from or what it could promote.
All in all, the application does not look trustworthy as it does not look like it can perform as promised. Plus, there are a lot of things that are unknown about Google Image Downloader Chrome Extension. Thus, we advise not to take any chances with it and delete it before anything goes wrong. To eliminate it manually follow the removal guide available below and if you want to use automatic features instead, it would be recommendable to acquire a reputable antimalware tool.
Erase Google Image Downloader Chrome Extension
Launch Google Chrome.
Press ALT+F.
Tap on More Tools and select Extensions.
Choose Google Image downloader.
Press Remove.
Click Remove again to finish.
In non-techie terms:
Google Image Downloader Chrome Extension is considered to be a potentially unwanted program. The reason for it is the application does not seem to work the way it is supposed, and its creators do not provide more information about its effective manner. To be more precise, the software does not have the Privacy Policy and End User License Agreement documents. Without them it is impossible to say what kind of information the extension might gather, could it automatically update itself or download new tools, and so on. Naturally, under such circumstances, we do not recommend taking any chances with such a suspicious application. Should you decide to eliminate it, we can help you erase it manually if you only take a look at the removal guide available slightly above this paragraph. Another way to get rid of this potentially unwanted program is to download a reputable antimalware tool, make it scan the whole system, and then click the provided deletion button to deal with all detections at the same time.