Do you know what Golden Ransomware is?
Golden Ransomware is a new addition to the ransomware family. Our hawk-eyed malware researchers have detected this malicious application only recently, and they can now confirm that it is completely new. In fact, cyber criminals have not even finished developing it. There are two signs that confirm that this threat is still in the development phase. First, it does not encrypt a single file on the victim's computer. Second, it opens a window with a message that contains the word (link) instead of an actual URL. Of course, Golden Ransomware might be finished soon. If you encounter the final version of this threat, it will act slightly differently. Of course, you must erase Golden Ransomware from your computer no matter which version of this infection you encounter. Unfortunately, the window it places over Desktop can neither be closed nor killed, which means that its removal will be quite complicated. Specifically speaking, you could only erase it if you boot into Safe Mode/Safe Mode with Networking. Specialists have prepared a step-by-step removal guide for you, so it is not be a problem if you have no idea how to do that.
No doubt Golden Ransomware has been developed to obtain money from victims; however, since it has not been finished yet, it does not encrypt any files on the affected computer. Of course, the malicious application might be updated in the near future. If this really happens, we can assure you that this new version will mercilessly lock a bunch of personal files on your computer. Even though Golden Ransomware did not encrypt a single file at the time of research, it still opened a ransom note after flashing black and yellow. The message informs the user that he/she has become a victim of Golden Ransomware. Additionally, users find out that they can only unlock their computers "by visiting one of these two links" indicated in the ransom note. As mentioned, the version analyzed by Golden Ransomware did not contain a single link, but we suspect that provided links will open a payment page. Usually, decryption tools users are offered to purchase from cyber criminals are not cheap. Additionally, there are no guarantees that a user will get it from them, which is one of the main reasons we do not recommend transferring money to malicious software developers. You may wonder what you can do to unlock your data without the special decryptor. Well, you can restore all those files that have been affected from a backup. Needless to say, this is only possible if you have such a backup somewhere outside the affected computer.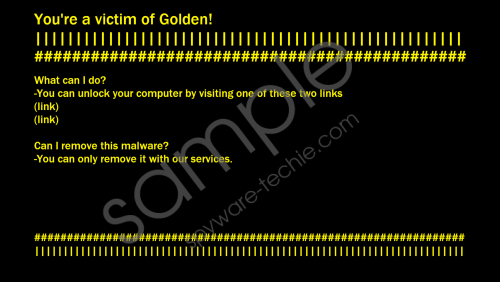 Golden Ransomware screenshot
Scroll down for full removal instructions
Golden Ransomware has not been finished yet, so cyber criminals do not distribute it actively either. Most probably, they will start promoting it once they finish developing it. As mentioned, the final version of this threat will, most likely, lock data on affected computers mercilessly and then demand money from users. Believe us; Golden Ransomware will bring you serious problems if you ever encounter it, so you should do what you can in order to prevent it from entering your computer. It is already known that ransomware infections are usually distributed via email attachments, so you should closely inspect every attachment you are about to open before actually opening it. Second, you should stop downloading software from torrent websites because you might end up with harmful malware in no time. Last but not least, you can strengthen your system's protection against malicious applications by installing an automated antimalware tool.
You must delete Golden Ransomware right away even if it has not locked a single file on your system because this infection might get an update from its C&C server and cause you serious trouble. As mentioned in the first paragraph of this report, you will have to boot into Safe Mode or Safe Mode with Networking first to erase this infection from your computer. Below-provided instructions will show you how.
Delete Golden Ransomware
Boot into Safe Mode/Safe Mode with Networking
Windows XP/Windows 7/Windows Vista
Restart your computer.
When the BIOS screen appears, start tapping F8 on your keyboard.
Select Safe Mode or Safe Mode with Networking from the menu.
Windows 10/Windows 8
Restart your computer.
Hold the Shift key while clicking the Power button.
Click Restart.
Click Troubleshoot and then select Advanced options.
Access Startup Settings.
Click Restart.
Choose Safe Mode (F4) or Safe Mode with Networking (F5).
Remove Golden Ransomware
Open Windows Explorer.
Check %USERPROFILE%\Desktop, %USERPROFILE%\Downloads, and %TEMP% directories.
Delete the malicious file associated with Golden Ransomware.
Press Win+R.
Type regedit and click OK.
Access the Run registry key: HKCU\SOFTWARE\Microsoft\Windows\CurrentVersion\Run .
Double-click on the SysAudio value and select Delete.
Empty your Recycle Bin.
In non-techie terms:
Golden Ransomware is a threat that can only bring problems. It was nowhere near a prevalent infection at the time of analysis, but the situation might change quickly, so you are not allowed to keep your system unprotected. If this threat ever infiltrates your computer, make sure you do not pay a ransom it demands no matter you have found your files encrypted or not.