Do you know what GoGoGo Radio is?
GoGoGo Radio will not allow you to listen to radio stations, which makes the name of this ad-supported program extremely suspicious. This program has been appointed this category because it injects ads into the sites you visit. Many of these ads might be very appealing, which is the main reason why computer users often postpone the removal of this advertisement-supported program. Needless to say, this is a mistake, because, if you do not delete GoGoGo Radio, security threats might hide behind every ad you encounter. Unfortunately, many users do not realize that this can be dangerous. Read this report to learn how to identify security threats and remove malicious ad-supported programs.
Our research team informs that GoGoGo Radio could be installed without your permission. This ad-supported program has been found traveling with malicious installers, which means that this adware might not only be installed without your noticing, but might also be installed along with other threats. If you are not cautious, you might find that you need to remove GoGoGo Radio together with browser hijackers, potentially unwanted programs, or even clandestine Trojans. Once installed, this adware implements GoRadio.exe, GoRadioPlayer.Service.exe, and GoRadioSvc.exe processes. If you do not terminate these processes, unreliable ads and offers will start flooding your browsers. You must delete GoGoGo Radio if you want to get rid of these ads and offers.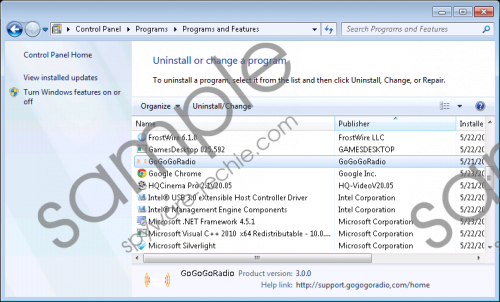 GoGoGo Radio screenshot
Scroll down for full removal instructions
It is impossible to say what could happen if you clicked the links provided by GoGoGo Radio, but it is very likely that this would put your virtual security on the line. Unfortunately, it is unlikely that this ad-supported program is the only infection that could do this. WordFly, HQ Cinema, and similar unreliable programs could be installed onto your PC with GoGoGo Radio, and the removal of these programs is important as well. If you cannot detect the infections and unreliable programs installed with this adware, you can use a malware scanner. We advise that you do not postpone the removal of any of the infections found by the scanner, regardless of how harmless they might appear to you.
Even though most users should be able to remove GoGoGo Radio manually, we do not advise the manual removal option. If this ad-supported program was the only infection you had to delete from your PC, you could get away with uninstalling this adware. However, it is likely that you will need to delete GoGoGo Radio-related infections as well, which is why installing automated malware detection and removal software is the best thing to do in this situation. We recommend installing this software even if you manage to remove GoGoGo Radio using the guide below.
Delete GoGoGo Radio
Delete from Windows 8 and Windows 8.1:
Simultaneously tap Win+R (RUN) and enter Control Panel into the dialog box.
In the Control Panel menu move to Programs and click Uninstall a program.
Right-click the program you wish to remove from your PC and select Uninstall.
Delete from Windows 7 and Windows Vista:
Navigate to the left of the Taskbar and click the Windows/Start icon.
Open the Control Panel menu, move to Programs, and click Uninstall a program.
Find the program you want to remove from your PC, right-click it, and select Uninstall.
Delete from Windows XP:
Click the Start menu icon on the left of the Taskbar and open Control Panel.
Double-click on Add or Remove Programs and go to Change or Remove Programs.
Click the undesirable program and select Remove.
In non-techie terms:
There is no doubt that GoGoGo Radio is an unreliable ad-supported program that you need to delete from your operating system. The manual removal guide above shows how to remove GoGoGo Radio from your PC manually, but we also recommend considering the automatic malware removal option. GoGoGo Radio could have been installed silently along with other threats, and the removal of these threats might be more complicated. Keep in mind that if you do not delete this adware, your virtual security could be jeopardized at any point.