Do you know what goDownload Search Plus is?
goDownload Search Plus is a potentially unwanted program that you might download from the Chrome Web Store or its official website and install it on the system yourself. Alternatively, you might find it installed after clicking on a pop-up or an ordinary commercial advertisement. goDownload Search Plus is presented as a useful piece of software that will enable you to perform web searches more effectively and conveniently. Also, it promises to make it easier to perform searches in the Downloads folder. If you wonder how this browser extension does that, you should know that it simply sets a new search provider in the place of the default search tool. If you do not like the fact that your default search tool will be changed to the search provider promoted by goDownload Search Plus, you should not install this extension on your computer by any means. If you have already detected it listed in the add-ons manager, you can be sure that it is the one responsible for altering your Google Chrome settings. Feel free to delete/disable it.
goDownload Search Plus is far from malicious software. There is nothing really dangerous about potentially unwanted programs, but they might still act in an undesirable way. Speaking more specifically, a bunch of users do not like that the goDownload Search Plus browser extension changes the default search tool on their Google Chrome browsers. Even though it applies changes once installed, it does not mean that this extension is a browser hijacker. No, it does not hijack browsers – users give it permission to set a new search tool by installing it on their computers themselves. Unlike browser hijackers, the goDownload Search Plus browser extension informs users that their browsers' settings will be altered as well: "This extension configures your Default Search in Chrome browser to provide these features." Search Plus, the search tool set by the goDownload Search Plus browser extension, looks like any ordinary search provider; however, it redirects all the entered search queries through Searchalgo.com, which is surely not the most trustworthy search tool, before displaying Yahoo! search results. As a consequence, some of the search results it presents you with might turn out to be modified. That is, they will not be based on the search query you have entered. Instead, they will simply promote some websites that belong to third parties. Since there is a possibility that not all these websites you will be taken to are fully reliable, you should be very cautious. Actually, it would be best that you refrain yourself from clicking on any of these modified search results. Of course, it is not that easy to recognize them.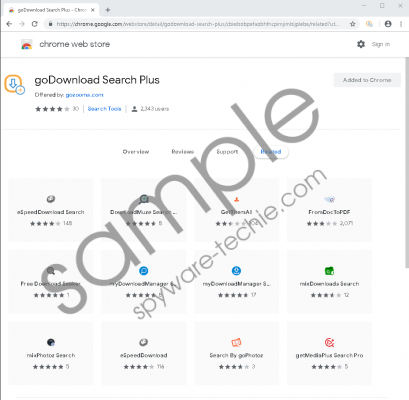 goDownload Search Plus screenshot
Scroll down for full removal instructions
Some users install the goDownload Search Plus extension consciously, but you are probably not one of them if you are reading this article. Some users encounter this piece of software after clicking on the advertisement promoting it, whereas others soon realize that it has been installed on their computers next to another program they have consciously installed on their PCs. Unfortunately, we cannot say for sure that it travels in software bundles. Since so many different distribution methods might be used to spread suspicious software, it might find a way how to enter your system again if you continue keeping your system unprotected after the goDownload Search Plus removal. Do not let this happen to you – acquire a reputable security tool and keep it enabled.
If you have no idea why you have goDownload Search Plus installed on your computer, or you have not found this piece of software useful, you should remove it today. By doing so, you will remove the search tool set on your Google Chrome. You just need to remove the goDownload Search Plus browser extension through the add-ons manager, or you can simply reset your web browser to default settings instead.
Delete goDownload Search Plus
Google Chrome
Open Google Chrome.
Tap Alt+F.
Click More tools.
Click Extensions.
Select the goDownload Search Plus browser extension and then click Remove.
In non-techie terms:
goDownload Search Plus is not harmful malware for sure, but we would not install it if we were you because it has been classified as a potentially unwanted application by experienced specialists. This extension will not only change your default search tool, but it might also present you with some sponsored search results. Additionally, it will gather some non-personally identifiable details. A potentially unwanted program will not steal sensitive information from your PC, but it would still be best not to keep it active on the system, especially if you know nothing about its installation.