Do you know what Go.deepteep.com is?
You must not ignore unauthorized changes within your web browser in any case, but if Go.deepteep.com hijacks your browsers, you need to be extremely cautious about what you do next. If you employ this hijacker to browse the web, you could be exposed to undesirable links. On top of that, it always redirects searches to third-party sites, and that is disconcerting too. Whether it has taken your web browser on its own (which is unlikely to happen), or it came bundled with extensions, applications, and even malware, you need to delete it as soon as possible. If you have no experience when it comes to hijackers, you might think that removing Go.deepteep.com is an incredibly tasking and complicated operation. While it can be that, our research team is ready to help you get rid of the threat as smoothly as possible.
Go.deepteep.com is identical to Go.bonefreeze.com and Go.bonanzoro.com. They are introduced to Google Chrome, Mozilla Firefox, and Internet Explorer users in very peculiar ways. In most cases, they come attached to other programs, such as PdfPro100 (offered at pdfpro100.com). In general, it is very unlikely that these hijackers spread on their own. Another thing that is unlikely is that the hijacker spreads in other regions besides the United Kingdom. Install a trusted malware scanner to quickly inspect your operating system and determine whether or not malicious threats exist. What should you do if they exist? If that is the case, you need to delete them immediately, and a reliable anti-malware program can be most useful. We discuss it later in the report too, in regards to the elimination of Go.deepteep.com itself. All in all, while some programs might be harmless, and others could be harmful, we want to focus on the hijacker.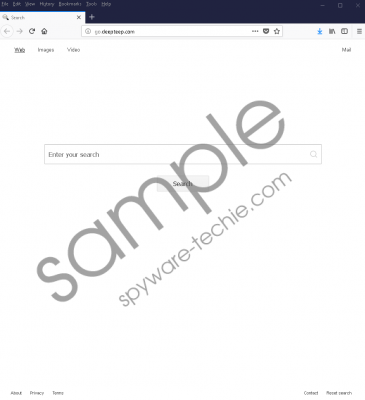 Go.deepteep.com screenshot
Scroll down for full removal instructions
According to our research, in the past, Go.deepteep.com would redirect all searches to Bing Search. At the moment, it is redirecting to Yahoo Search. So, if you search for "Web" results, you will find yourself redirected to search.yahoo.com, and "Images" and "Videos" searchers will automatically redirect you to images.search.yahoo.com and video.search.yahoo.com respectively. The "Mail" icon you can find on the right of the home page routes to google.com/intl/lt/gmail/about/#. Well, if Go.deepteep.com is routing to legitimate websites, what is the big deal? First of all, the results shown to you can be modified, and that means that sponsored links, advertisements, and unreliable links to third-party sites could be added. On top of that, the data you enter could be recorded, and that is the last thing you want. Can you trust the company not to leak information? Considering that there isn't much about it – the "About" section vaguely informs that Deepteep is a unique software installer, designed to improve regular software installation processes – you might want to be more careful.
The instructions you can see below cover various different scenarios. They show how to remove files that belong to the hijacker, how to reset browsers and clear data, as well as how to uninstall unwanted apps from Windows. Hopefully, you can delete Go.deepteep.com on your own, and you can successfully protect your system against hijackers and different kinds of threats tool. Unfortunately, that is pretty unrealistic, and that is why you should consider installing anti-malware software. It will offer you protection against ransomware, Trojans, adware, and, of course, other browser hijackers too.
Remove Go.deepteep.com
Eliminate malicious files from Windows:
Simultaneously tap Win+E to launch Explorer.
Enter %APPDATA% into the box at the top to access the directory.
Right-click and Delete the folder named AppSync.
Reset Chrome and clear browsing data:
Open the browser and type chrome://settings/resetProfileSettings?origin=userclick into the browser's address bar. Tap Enter.
Click Reset settings to reset your web browser.
Enter chrome://settings/clearBrowserData into the address bar.
Choose the right time range and boxes and then click Clear data.
Reset Firefox and clear browsing data:
Open the browser and type about:support into the browser's address bar. Tap Enter.
In the Troubleshooting Information menu click Refresh Firefox…
Simultaneously tap Ctrl+Shift+Delete keys to access the Clear All History menu.
Choose the right time range and boxes and then click Clear Now.
Reset Internet Explorer and clear browsing data:
Open the browser and tap Alt+T keys to access the Tools menu.
Select Options, click the Advanced tab, click Reset, and then click Reset again.
Simultaneously tap Ctrl+Shift+Delete keys to access the Delete Browsing History menu.
Choose the desired boxes and click Delete.
Uninstall undesirable applications from Windows
Tap Win+R to launch RUN and then enter control panel into the box.
In the Control Panel menu click Uninstall a program.
If you find an application called Deepteep, immediately Uninstall it.
In non-techie terms:
Go.deepteep.com is a threat that you need to eliminate from your browser if it hijacked it. It looks like a normal search engine, but if you use it, it can redirect to a third-party search engine and show modified search results. Since it is hard to say what could happen if you clicked links added by the hijacker, we suggest taking no risks. Instead, remove Go.deepteep.com from your browser, and also eliminate any threats that might have slithered into your operating system along with this hijacker. The instructions above cover major bases, and we believe you should be able to get rid of the hijacker yourself. However, we cannot say whether or not you can eliminate other threats or protect the system yourself. That is why we suggest relying on anti-malware software to take care of that.