Do you know what Globalweather Ads are?
Globalweather Ads are commercial advertisements that appear on your screen when you browse the web. These advertisements are generated by a potentially unwanted program that was installed on your computer together with a few others. If you care about your system's stability, you will see to it that your computer is protected against potential threats immediately. To do that, please remove the program that is responsible for Globalweather Ads. You can find the manual removal instructions below this description. If you are not sure you could do it on your own, please do not hesitate to leave us a comment.
As you can probably tell, the program that displays these ads is GlobalWeather. While our research team says that this app is a potentially unwanted program, there are also other security researchers who maintain this program is an adware application. While these two categories are somewhat different, we cannot deny that there are obvious similarities between the two. For one, you can expect either to collect information on your web browsing habits for online marketing purposes. And this is exactly what GlobalWeather does. It might seem that the program is there to inform you about the weather all over the world, but apps like these always have a hidden agenda.
Such applications often have official websites, but it is very unlikely that users download them directly. After all, if you had a chance to choose to install this program, you probably would not click the Install button. Therefore, we believe that Globalweather must have entered your computer in a software package. Software packages are usually hosted on file-sharing websites. For instance, if you want to download a particular application, you may find it on an official homepage or at some third-party source. However, downloading a program from a third-party source usually means that it comes bundled with additional applications.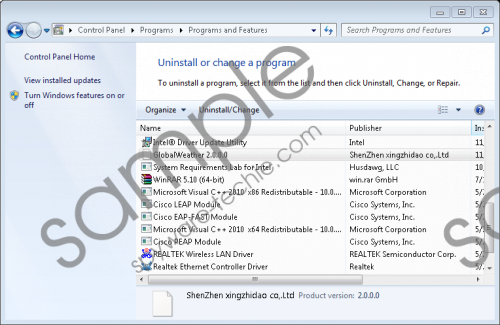 Globalweather Ads screenshot
Scroll down for full removal instructions
Globalweather Ads are generated by one of those additional apps you installed on your PC accidentally. Also, the research shows that GlobalWeather is created by the same developers as Advanced ScreenSnapshot, which is also a potentially unwanted program. It means that we can expect practically the same bag of tricks from all programs from the same group. And while they look like they come forward to help you with something, their main objective is to make some money through third-party advertising.
Why is third-party advertising potentially harmful? There are certain risks behind Globalweather Ads that must be addressed even if the program itself does intend to infect you with malware. The problem is that the application does not check what kind of content is promoted via Globalweather Ads. As long as its developers get paid for the clicks you make, they may promote almost anything. Hence, cyber criminals could make use of the ads as a platform for their content distribution. Of course, this kind of course of events is very unlikely, but there is no need to tolerate a program that presents such vulnerabilities.
How would it be possible to avoid installing similar applications in the future? Needless to say, you should pay attention during freeware installation. There are usually steps that inform you about the additional features or programs you are about to add. Normally, it should be possible to avoid installing programs you do not need or want. Also, if you need a particular application, it would be a lot better to download it from its official homepage. And even then, you should remain attentive during the setup. Sometimes even official installers come bundled with various third-party features. However, in such cases, it is a lot easier to deselect or revert such settings.
For now, you need to focus on removing Globalweather Ads from your computer. You can uninstall the program behind this via Control Panel. While you are at it, you should also delete other unwanted applications that could have been recently installed on your computer. If you do not know which programs must be terminated, scan your PC with the SpyHunter free scanner. You will soon have a list of all the unnecessary programs, and you will be able to get rid of them at once. Do not wait until security threats take over your PC.
How to Remove Globalweather Ads
Windows 10 & Windows 8.1
Press Win+R and type Control Panel. Click OK.
Go to Uninstall a program and delete GlobalWeather.
Windows Vista & Windows 7
Press the Start menu button and go to Control Panel.
Open Uninstall a program and remove GlobalWeather.
Windows XP
Open the Start menu and navigate to Control Panel.
Select Add or remove programs and uninstall GlobalWeather.
In non-techie terms:
Globalweather Ads may look like they promote something you want or need. However, that is what the program behind them want you to think because it needs your clicks to generate a financial profit. If you fail to remove Globalweather Ads immediately, eventually it could lead to severe computer security programs, and you could end up losing your money as you fight dangerous computer infections. Thus, take care of the problem while it is still very small.