Do you know what GlobalSearchConverter is?
GlobalSearchConverter sounds like an extension that is both a search tool and a converter. Well, if you go to portal.globalsearchconverter.com, you can find a free PDF converter and also an unreliable search tool, but this webpage does not appear to be directly linked to the extension, which we classify as a potentially unwanted program (PUP). If you install it, it introduces feed.globalsearchconverter.com as the default search provider, and this one has nothing to do with converters specifically. That is not the main reason we advise deleting GlobalSearchConverter from your browser. Continue reading, and you will learn all about this potentially unwanted program and why trusting it is not a good thing.
Did you know that GlobalSearchConverter has multiple clones? A few of them include such extensions as PDFConvertersSearch, FileConverterSearches, PDFConverterSearchTool, and PDFConverterSearch4Free. Clearly, these clones all use file conversion as bait, but there are other clones that seem to be related to music, movies, and other things that people are generally interested in. Unfortunately, the names of these PUPs are completely misleading. They offer nothing but a search tool, and an unreliable one at that. Whether you downloaded the PUP from some random website or the reputable Chrome Web Store (found at chrome.google.com/webstore/detail/globalsearchconverter/kehbfcajkbpmompiplmodakpceicfgkc), your default search provider must have been modified, and this is the reason we are talking about the removal.
When you use the search tool introduced by GlobalSearchConverter, it redirects to Yahoo Search at search.yahoo.com. If you are familiar with this tool, you might think that the PUP is completely harmless. Well, it does not just show Yahoo Search results. It also modifies them to include its own links. These could be used to promote the services and products of unknown third parties, and since little to nothing is known about them, we have to consider the possibility that we are dealing with schemers here. What if you clicked the links routing to their sites? You could face scams and malware installers, and we are sure that you want to avoid that, don't you? We are also sure that you want to avoid the data-tracking cookies that are known to track browsing data. Even personally identifiable information can be recorded and shared with the undisclosed parties, which is why the PUP's creator is extremely suspicious.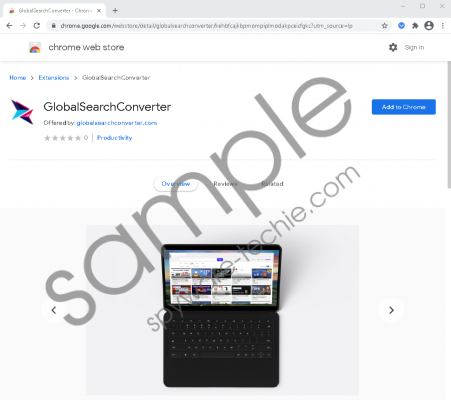 GlobalSearchConverter screenshot
Scroll down for full removal instructions
Above all, GlobalSearchConverter offers nothing useful. This extension was created for the sole purpose of collecting users' data and exposing them to unpredictable third-party links via the trusted Yahoo Search engine. Needless to say, this PUP is tricky, and because it is also suspicious, you should not wait to delete it for much longer. Before you decide which removal method you want to use, we advise performing a full system scan. If other threats are found, it might be easiest to implement anti-malware software that can remove GlobalSearchConverter and all other threats automatically. If nothing besides the PUP is discovered, you might be able to follow the instructions below. Once you are done with the PUP, do not forget about this experience. Use it to remind yourself of danger when installing new extensions in the future.
Delete GlobalSearchConverter from Chrome
Launch the browser and tap Alt+F keys.
Open the More tools menu and click Extensions.
Click Remove next to the undesirable extension.
Tap Ctrl+Shift+Delete keys to open the Clear browsing data menu.
Open the Advanced menu and then select the time range and boxes.
Click the Clear data button and then restart the browser.
In non-techie terms:
If you thought that you could use GlobalSearchConverter to optimize your searches and perhaps even convert files, we have to warn you that this PUP offers neither. It was created to introduce people to a search tool that redirects to Yahoo Search to show sponsored links. Yahoo has nothing to do with this, and it is the PUP that is responsible for modifying the results. On top of that, this extension can also track users' data and pass it on to unknown parties. Due to these reasons, we advise deleting GlobalSearchConverter immediately. If you want to do it manually, follow the instructions above. If you need help, and especially if you need to eliminate multiple threats, we advise implementing legitimate anti-malware software.