Do you know what Global System Mechanic is?
Global System Mechanic is a PC optimizer that promises to boost the PC's performance. The optimizer removes registry junk, manages system startup programs, and removes adware from both the system and Internet browsers. These features may seem to be promising and appealing; however, it is important to note that not all computer users are happy about this application, which, in fact, can serve its clients only after being activated for €23.95. More important, Global System Mechanic is blacklisted by some security programs as a potentially unwanted program (PUP), which means that it can be removed from the computer, or blocked if the system already contains anti-malware.
Global System Mechanic can be installed as a regular application if you choose to access its official website wisesystemtools.com, but this optimizer is also bundled with other applications, which depends on software developers and distributors. At present, the PC booster is distributed along with AVAST Antivirus, but it is just a matter of time before software distributors make some changes. To prevent unsolicited programs, it is important to pay attention to the installation process, and, without a doubt, keep a security program always running on the computer. PUPs are very often installed as additional or optional programs, so it is essential to be attentive to details so that no questionable software gets access to your system.
If you already have Global System Mechanic on your PC, you are probably well-informed about the issues detected on the PC. Global System Mechanic scans the system to identify registry errors, startup issues, and then displays the results. Moreover, pop-up windows encouraging potential clients to activate the program are displayed.
After purchasing the license and activating Global System Mechanic, you would have unnecessary registry entries removed. Such registry entries usually refer to the data that is left after uninstalling a program or deleting some files. Registry cleaning is very often highlighted as one of the means of speeding up the computer. However, some PC technicians argue that using registry cleaners do not produce desired results, because such programs work according to specific sets of rules that may not be compatible with your registry. You would be advised to delete unnecessary registry keys manually, which can be done with the help of a comprehensive tutorial.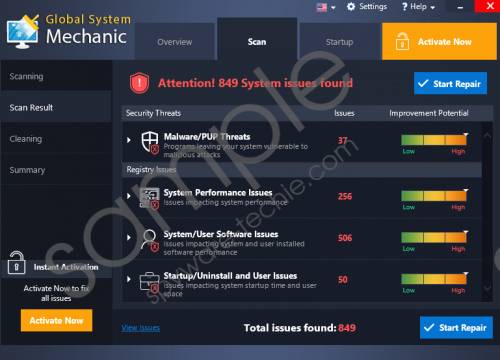 Global System Mechanic screenshot
Scroll down for full removal instructions
Additionally, Global System Mechanic takes care of startup programs, which may be a reason of slow booting. Such problems usually arise with older computers running many programs. It is highly advisable to disable unnecessary programs so that they do not use the PC's resources at every startup. This system performance tweak is rather controversial, but it is worth keeping it in mind when dealing with PC sluggishness. More important, it is possible to manage startups manually. And this is not a complex procedure requiring in-depth technical knowledge. All that you need is access the Task Manager (Windows 8 and Windows 10), or type in msconfig in the Start menu (Windows 7).
Global System Mechanic is also said to be powered by a built-in technology detecting adware, including web browser-based adware programs. Adware programs are detected by powerful anti-malware programs, and one should be running on your PC all the time to block PUPs such as Global System Mechanic and fight off more dangerous programs.
IF you are determined to have the registry cleaned by software, do not spend money on a PUP, but find a reliable free registry cleaning tool.
Your reading this review probably means that you have recently found Global System Mechanic on your computer and now do not know whether to trust its detections or not. The results displayed could be real, but our advice is to remove this program, because this PUP is distributed stealthily, and the service offered by this application can be easily replaced by programs that are available without a charge.
Below you will find a removal guide that will help you ininstall Global System Mechanic, but bear in mind that it is much better to rely on anti-malware. The PC might contain some more unsolicited programs or files, and you can have them identified only by a professional security program. So do not wait for more serious security-related issues.
How to remove Global System Mechanic
Right-click the Start button and select Control Panel (Win 8 / Win 10) or click the Start button and click Control Panel (Win 7).
Under the heading Programs, select the option Uninstall a program and remove the unwanted application.
In non-techie terms:
Global System Mechanic is a system optimization tool offering you to have the system's performance tweaked. However, the chance to see whether you can really shorted the boot time and have other features employed is given only after upgrading the software to the full version. Malware researchers classify Global System Mechanic as a PUP and advise you to avoid such programs. If you want to get rid of Global System Mechanic too, take immediate action to do it.