Do you know what GifsGalore Toolbar is?
GifsGalore Toolbar is a new browser plugin Mindspark Interactive Network, Inc. has developed. It is all about gifs. Users are told that they could find, view, and share "epic gifs" with the click of a button and even easily access meme and gif makers if they install GifsGalore Toolbar, so it does not surprise us at that a handful of people voluntarily install this piece of software on their computers. We do not say that this application is malicious, but it would be a pure lie if we told you that there is nothing wrong to keep it installed on the system because our malware researchers have revealed that it is a typical potentially unwanted application. Such programs are not real malicious applications, but they still have drawbacks, so users should not keep them on their computers. Read the next paragraph of this article to find out how GifsGalore Toolbar acts on users' computers. We hope that you will understand that there are better programs available and remove this Mindspark product without consideration.
GifsGalore Toolbar has an official website and, on top of that, it can be installed directly from the Chrome Web Store, but it seems that it can also be installed on users' computers without their knowledge. Of course, it is impossible not to notice its presence because it sets a new page as a homepage and New Tab on browsers it affects. Specialists say that changes might be applied to Internet Explorer, Mozilla Firefox, and Google Chrome. The page it sets contains a search box and a bunch of quick-access buttons (e.g., Upload Gifs, Create Gifs, Create Memes, etc.) – they usually open third-party pages. These pages can be opened directly by typing their URLs in the address bar, so we have some doubts about the usefulness of GifsGalore Toolbar. Additionally, it has been observed that the search tool (search.myway.com) promoted by this browser plugin is not fully reliable. It has been noticed that it uses the modified Google search engine to show search results, so the chances are high that you will see some modified search results too. Although they do not look harmful at all at first glance, they might open untrustworthy pages, so you should not click on them. You will only be sure that it is impossible to click on them if you remove GifsGalore Toolbar completely or do not use this search tool at all. Without a doubt, the full removal of this browser plugin is the only variant if it has been installed on your computer without your knowledge.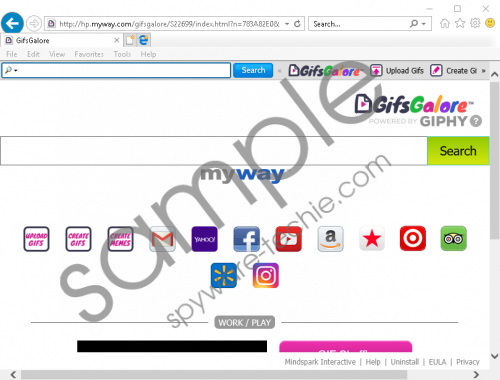 GifsGalore Toolbar screenshot
Scroll down for full removal instructions
There are two official sources GifsGalore Toolbar can be downloaded from. The first one is its official website http://www.gifsgalore.com/index.jhtml, whereas the second one is the Chrome Web Store (https://chrome.google.com/webstore/detail/gifsgalore/fnjgjdfhhakkbojkgmiihabbbjhgbchh). We are sure there are users who have installed this piece of software voluntarily on their PCs; however, there is no doubt that some of them have found it installed on their PCs without their knowledge. This Mindspark product might be spread bundled. Also, it might be promoted by click-to-install advertisements, so we believe users who say they do not know anything about the appearance of this piece of software. If GifsGalore Toolbar has been installed on your computer without your consent too, do not even think about keeping it.
If GifsGalore Toolbar has affected your Internet Explorer only, you could delete it through Control Panel. Unfortunately, you will need to put some more effort to remove it from Mozilla Firefox and Google Chrome because an uninstaller for these two browsers does not exist. Below this article you will find our manual removal guide you should follow – you will delete this browser plugin in no time with its help.
How to delete GifsGalore Toolbar
Internet Explorer
Windows XP
Click Start.
Click Control Panel.
Click Add or Remove Programs.
Select the untrustworthy application and click Remove.
Windows 7/Vista/8/8.1/10
Launch Run and type Control Panel in the command line.
Click OK.
Open Uninstall a program.
Select the program you want to remove.
Click Uninstall.
Mozilla Firefox
Open Mozilla Firefox.
Press Ctrl+Shift+A.
Locate the undesirable extension and click Remove next to it.
Google Chrome
Launch Google Chrome.
Press Alt+F.
Click More Tools.
Click Extensions.
Select the extension representing GifsGalore Toolbar.
Click the trash button.
In non-techie terms:
GifsGalore Toolbar tries to convince users that it is a beneficial piece of software, but it is not exactly true. Once it gets installed on users' PCs, it only sets a new page as a homepage and New Tab and does not do anything else, so we do not consider it very useful software. Potentially unwanted programs are not harmful malicious applications for sure, but they might still act in an undesirable way, so you should not keep this Mindspark Interactive Network, Inc. product installed on your PC either.