Do you know what GifaPalooza Toolbar is?
If you notice that GifaPalooza Toolbar has appeared in your browsers as your new home page and new tab page, it is possible that you do not even recall installing it. Our researchers have tested this new browser extension in our internal lab since it caught their attention somehow and realized that this is a new member in the unstoppable Mindspark family of bad toolbars that also include HolidayPhotoEdit Toolbar and MetroWhiz Toolbar just to name a few from the dozens, or probably, hundreds of useless applications. We do not claim that this toolbar presents a severe threat but we certainly do not find it a reliable and beneficial one either. The fact that this potentially unwanted program (PUP) can infiltrate your system in the company of malware infections should be enough for you to want to remove GifaPalooza Toolbar from your computer right away along with all other related and unrelated threats. Please read our full report if you would like to know how to avoid such infiltrations in the future.
The most likely way for you to end up with this bad toolbar in your main browsers, including Mozilla Firefox, Google Chrome, and Internet Explorer, is to click on a corrupt third-party advertisement or to install a questionable freeware bundle. You can easily be exposed to corrupt ads if you visit suspicious websites generally associated with online gambling, gaming, file sharing, dating, and porn. This ad can also be a misleading one, offering you a software download or update. For instance, you may be viewing a website where you would like to watch an online streaming video; however, instead of playing the video a pop-up is displayed claiming that you need the latest version of Adobe Flash Player. Obviously, unsuspecting users would go for it since they would want to see this content. The problem is that instead of a legitimate update, they may install this PUP or drop a whole bundle of malicious threats.
The same can happen basically, if you download a free program from a suspicious torrent or shareware page. These shady sites are infamous for distributing malicious software packages that can be filled with PUPs and malware threats as well, such as adware programs, Trojans, fake alerts, and browser hijackers to name a few. Yet another possibility for such multiple infections is that your computer was formerly infected with adware and this infection shows you unsafe ads that lead to more infections. No wonder why you should run a full system malware scan after you delete GifaPalooza Toolbar from your browsers.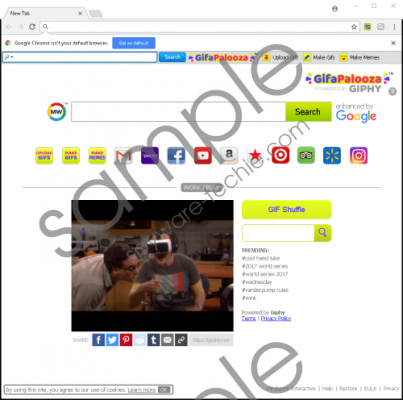 GifaPalooza Toolbar screenshot
Scroll down for full removal instructions
Of course, we should also mention that you can also install this useless PUP officially from its promotional page, gifapalooza.com, and the Chrome web store, chrome.google.com/webstore/detail/gifapalooza/klknlgpmpobhjglggmdfimnpejpbdacn. It seems that only one person has thought it is a good idea to install this tool in the past week, which is quite a weak performance and would not account for the number of unwanted appearances users report. But even if you are the one who got this PUP in this way, we recommend that you remove GifaPalooza Toolbar as soon as possible.
This bad toolbar is indeed a search website featuring a fake toolbar. This toolbar offers you a search tool, which is totally redundant since you already have a search field right in the middle of your screen, and a couple of quick links to meme creation and GIF creation sites. You can also find a GIF searching and displaying area at the bottom of this page. Of course, if you are a fan of the meme and GIF fad, you may consider it fun to have such a tool in your browsers. However, this PUP may spy on you and record your online activities to serve you with targeted advertising. Since this browser extension can modify your search results that will be shown through its promoted search engine, search.myway.com, it is possible that you will be presented with questionable third-party ads and sponsored links. If you do not wish to end up being scammed or even more infected, we suggest that you remove GifaPalooza Toolbar right now.
Unfortunately, using the uninstaller via Control Panel can only help you if you have installed this PUP in Internet Explorer. Thus, it is advisable that you reset the other two browsers to make sure that no browser-related threats remain on board. Please follow our guide below if you would like to eliminate this threat source manually. Hopefully, it is clear by now that this PUP may be the least harmful threat on your system. You cannot just stop right here and go on about your business unless you want to risk further exposure to malicious content and infections. We advise you to install a reliable malware removal application, such as SpyHunter to automatically defend your PC against all known forms of attacks.
GifaPalooza Toolbar removal from Internet Explorer
Windows Vista, Windows 7, Windows 8, Windows 8.1, and Windows 10

Tap Win+R and enter control panel in the field. Press OK.
Select Uninstall a program.
Click on the uninstaller and click Uninstall.
Windows XP
Click the Start button and select Control Panel.
Choose Add or Remove Programs.
Click on the uninstaller and click Remove.
Reset the other browsers

Google Chrome
Tap Alt+F and select Settings.
Scroll down and click Advanced.
Scroll down and click Reset.
In the confirmation window, press Reset.
Mozilla Firefox
Tap Alt+H and select Troubleshooting Information.
Press Refresh Firefox at the top.
Click Refresh Firefox in the confirmation window.
In non-techie terms:
GifaPalooza Toolbar is yet another useless and potentially harmful featured search site from the notorious Mindspark Interactive Network Inc. Although there could be way more dangerous threats on your system right now that may have crawled onto your PC along with this potentially unwanted program (PUP), this PUP can still pose an indirect threat to your computer. For example, it may show you modified web search results. If you click on content coming from this PUP, you might find yourself redirected to questionable websites or even drop a few more infections. Whatever this bad toolbar can do -- it provides you with quick links to GIF-related pages -- you can easily do by using the bookmarking function of your browsers, which is a lot safer. If you do not want to end up with more system security issues than you are having now, we advise you to remove GifaPalooza Toolbar and install a decent anti-malware program to protect your PC from future attacks.