Do you know what Gifables is?
If you have not had enough of potentially unwanted programs (PUP) or bad toolbars coming from the Mindspark family, Gifables will probably be something you may like to keep. This is why we are here to tell you that this may not be the best idea. Our researchers have found that this PUP can introduce you to potentially unreliable web content. Engaging with such ads and links could have unfortunate consequences, such as driving infections onto your system or being scammed on fake websites. This PUP may enter you system in questionable ways that could also indicate the presence of malware infections on your PC. Our researchers concluded that you should remove Gifables from your computer if you want to feel secure in your virtual world.
As we have mentioned, the bigger issue for you is when you download this PUP in a freeware bundle because this package may contain additional PUPs as well as malware infections, including browser hijackers, Trojans, fake warnings, and adware programs. Installing such a bundle could seriously affect the vulnerability of your system. It is possible that you click on a pop-up or banner ad that claims that you need a certain software or driver update to view content on the page you are viewing, but this third-party ad can be anything really. If you click on the wrong ad, you can easily drop a malicious pack onto your system. Sometimes these ads may also be hidden on a suspicious page and you would think you just click on an empty area. It is also possible that the page you are visiting has malicious codes to open new tabs or drop infections when you click anywhere on the page, including input fields when you want to search for something. This usually happens in the case of shady file-sharing websites, such as freeware and torrent pages.
Apart from these it is also important to mention that you may also be exposed to unsafe ads when there is a browser hijacker or an adware app on board. No wonder why it is essential that you regularly check your system for potential threats. So even if you delete Gifables now, it may not be enough to restore your system security. You had better find a reliable online malware scanner to be able to identify all other risky programs. As you can see, there is a good chance that your system has been infected with a couple of threats. But we still need to mention that you can officially download this browser extension from either gifables.com or the Chrome web store, chrome.google.com/webstore/detail/gifables/jahgjnedbefhiimghmiemdmgiegiddjg.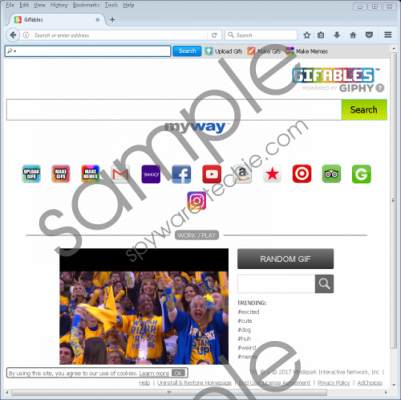 Gifables screenshot
Scroll down for full removal instructions
This PUP offers you easy access to Gif and Meme maker websites (giphy.com/create/gifmaker and memes.com/generator) on its fake toolbar and other thumbnail links you can find below the main search box. This tool is indeed a search website with extra features, such as the toolbar, the thumbnail links, and the Gif search panel at the bottom. You should be aware that you can easily bookmark these pages if you want quick access to such sites. Using the built-in functions and features of your browsers is always safer than using a questionable extension.
This application uses the search.myway.com search engine just like all other Mindspark products. However, this search engine may not be entirely trustworthy. This means that it may manipulate the search results to include affiliated advertising and sponsored links. Since there is no guarantee as to the reliability of the third parties, it is possible that even cyber crooks can use this tool to promote their malicious websites. We do not advise you to use this search engine or to click anywhere on its search results page unless you want to drop additional threats on your computer or you want to let cyber criminals steal your money after you reveal your banking details in an online scam. As a matter of fact, we recommend that you remove Gifables as soon as you can.
Depending on which version of this PUP you installed and which of your browsers were affected, you may find an uninstaller in your Control Panel. Keep in mind that if you run this uninstaller, it only removes the extension and other changes related to Internet Explorer. If your Mozilla Firefox and Google Chrome browsers are also affected, we suggest that you reset them both. We have prepared instructions for the uninstallation and the browser resets as well. You can easily use them even if you are not a techie. It is important that you make sure that no other potential threats or malware infections remain on your system. If manual detection and elimination are out of the question for you, we suggest that you employ a reliable malware remover, such as SpyHunter
Remove Gifables from your Windows
Windows 8/Windows 8.1/Windows 10
Tap Win+R and type Control Panel. Press OK
Open Uninstall a program.
Select the uninstaller and click Uninstall.
Windows Vista/Windows 7
Press the Windows logo on the Taskbar and go to Control Panel.
Click Uninstall a program.
Select the uninstaller and click Uninstall.
Windows XP
Click the Start button and choose Control Panel.
Pick Add or Remove Programs.
Select the uninstaller and click Remove.
Reset your browsers
Mozilla Firefox
Tap Alt+H and select Troubleshooting Information.
Click Refresh Firefox and click Refresh Firefox in the pop-up.
Google Chrome
Tap Alt+F and select Settings.
Scroll down and click Show advanced settings.
Press Reset settings at the bottom.
Press Reset.
Internet Explorer
Tap Alt+T and select Internet Options.
On the Advanced tab, click Reset.
Mark the Delete personal settings checkbox.
Press Reset and press Close.
In non-techie terms:
Gifables is a new browser extension that introduces a fake toolbar, search engine, and Gif searching features; however, this is just another one of those potentially unwanted application that comes from the Mindspark family. Although this tool may have some interesting features, its search engine may pose a potential security threat by showing you questionable search results. It is also important to mention that this application mostly spreads with malicious programs, which can cause further security-related issues for you. We suggest that you remove Gifables from your computer along with all other programs that could mean harm to your privacy and your system. If you want to feel safe, you may want to install a professional malware removal application.