Do you know what GetFreeGifs Toolbar is?
In this report, we would like to discuss another potentially unwanted program from the Mindspark family called GetFreeGifs Toolbar. The application is offered as a tool for creating gifs, and it provides a selection of already available gifs too. However, you should also know that the software may place an unreliable search engine on your default browser through which it might show you suspicious third-party advertising content. For this reason, we do not advise leaving GetFreeGifs Toolbar on your browser and if you decide not to we can help our readers erase it with the removal guide available below the article. Those who wish to get to know the potentially unwanted program better could continue reading the text, and if any questions come up while doing so, there is a comments section below where you can place a message for us.
At the moment of writing GetFreeGifs Toolbar is still being distributed through Chrome Web Store page (chrome.google.com/webstore/detail/getfreegifs/kcdnokmjmlnenmcehbaofkjmebadocep). The reason we are using word still is because potentially unwanted programs, adware, browser hijackers, and other unreliable software often gets removed from the mentioned website after some time.
What's more, the application could also be downloaded from its official web page called getfreegifs.com/index.jhtml. Our researchers believe some users could end up on the mentioned website after clicking pop-up advertisements that they may encounter either while visiting untrustworthy web pages or after installing adware, browser hijackers, etc. Naturally, to avoid such potentially unwanted programs in the future we would recommend staying away from questionable sites, paying more attention to the software you choose to install and the terms on the setup wizard, and if you do not have an antimalware tool yet, it might be a good idea to consider getting one.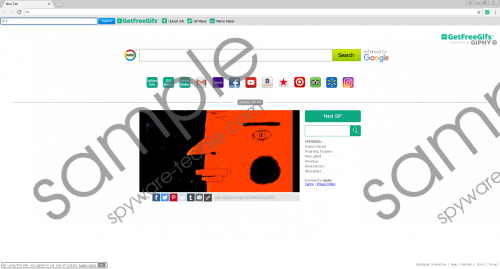 GetFreeGifs Toolbar screenshot
Scroll down for full removal instructions
After being installed, GetFreeGifs Toolbar might change the user's homepage, default search engine, or new tab page with search.myway.com. According to our researchers, it uses a modified Google search engine. This means the results could be gathered with google.com, but the potentially unwanted program can still modify them. If this happens, it is entirely possible the application could place third-party advertising content among the results so that GetFreeGifs Toolbar's creators might gain advertising revenue from your clicks. It is crucial to understand such content could come from various sources, and there might be no guarantees it will be safe for users to interact with it. Consequently, we recommend not to risk your privacy's or the computer's safety and get rid of the suspicious toolbar along with its offered search engine right away.
There are two option to choose from if you decide to erase GetFreeGifs Toolbar. Firstly, users could try eliminating it manually. The process differs depending on the browser, but the guide located below this paragraph will show you how to deal with the potentially unwanted program for the Google Chrome, Mozilla Firefox, and Internet Explorer users. The second option we can suggest is deletion with an antimalware tool. Users who choose this way should just pick a reputable antimalware tool and perform a system scan.
Erase GetFreeGifs Toolbar from Internet Explorer
Windows 8 & Windows 10
Launch the RUN by pressing Windows Key+R.
Type Control Panel and click OK.
Select option Uninstall a program.
Locate the application and press Uninstall.
Windows Vista& Windows 7
Open the Start menu and choose Control Panel.
Pick Uninstall a program.
Select the program and click Uninstall.
Windows XP
Click on Start and pick Control Panel.
Select Add or Remove Programs.
Find GetFreeGifs Toolbar and select Uninstall.
Delete GetFreeGifs Toolbar from other browsers
Mozilla Firefox
Press Windows Key+E.
Navigate to %APPDATA%\Mozilla\Firefox\Profiles\[PROFILE]\extensions
Find a file called _oyMembers_@free.getfreegifs.com, right-click it and select Delete.
Go to %APPDATA%\Mozilla\Firefox\Profiles\[PROFILE]
Look for a file called getfreegifs_oy, right-click it and press Delete too.
Find this path AppData%\Mozilla\Firefox\Profiles\[Unique user ID]
Locate a file called Prefs.js.
Then open it as a Notepad document.
Find the same code line: user_pref("browser.startup.homepage", "http://hp.myway.com/getfreegifs/ttab02/index.html").
Replace http://hp.myway.com/getfreegifs/ttab02/index.html with a trustworthy link and press Ctrl+S.
Close the document.
Empty Recycle bin.
Google Chrome
Press Windows Key+E.
Go to the listed paths one by one:
%LOCALAPPDATA%\Google\Chrome\User Data\[PROFILE]\Extensions
%LOCALAPPDATA%\Google\Chrome\User Data\[PROFILE]\Local Extension Settings
%LOCALAPPDATA%\Google\Chrome\User DaPresta\[PROFILE]\Sync Extension Settings
Find folders called kcdnokmjmlnenmcehbaofkjmebadocep.
Right-click these folders one by one and select Delete.
Close File Explorer.
Empty Recycle bin.
In non-techie terms:
GetFreeGifs Toolbar is a questionable tool since it was created by a company known for publishing potentially unwanted programs and other suspicious applications alike. Not to mention its provided search engine could display modified search results that might be altered to place unreliable advertising content among them. Therefore, we advise users not to take any chances with it and get rid of it before anything goes wrong. Especially, if you downloaded it unknowingly or find it irritating. The removal guide you can see above this paragraph will show how to eliminate the program manually. Of course, if this process seems to be a bit difficult users can download a reputable antimalware tool instead, perform a full system scan with it and erase the detected threats by clicking the deletion button.