Do you know what Get Speed Test Fast is?
If you want to test your Internet speeds daily or, at least, frequently, Get Speed Test Fast is an extension that might catch your eye. Of course, there are tons of websites that can test your Internet speeds without you having to install anything, but the extension is meant to offer additional services as well. Nonetheless, it is classified as a PUP – potentially unwanted program. It does not offer anything beneficial really, and if you install it, you could permit unknown parties to spy on you and also introduce you to ads when you browse the web. If you already knew this, you might be interested in the removal of Get Speed Test Fast alone. If you care to learn more about this suspicious extension first, continue reading our report.
Google Chrome and Mozilla Firefox users are introduced to Get Speed Test Fast at getspeedtestfast.com. The Chrome users should be routed to an installer page on Google Chrome if they clicked the 'Continue' button on the website, but at the time of research, this installer page was down. Most likely, the extension received too many bad reviews or was flagged as a PUP. After all, the Chrome Web Store does not want to be known for promoting PUPs and unreliable extensions. That being said, the add-on could still be distributed via third-party installers, and it could be introduced to you along with additional threats. This is why we suggest scanning your operating system now. Employ a legitimate malware scanner and let it inspect your system and browsers. If anything malicious is found, you will be warned about, and then you will be able to decide how to remove the detected threats.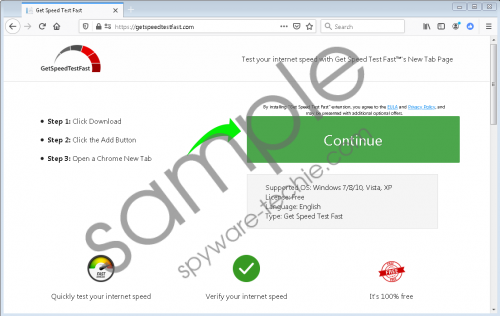 Get Speed Test Fast screenshot
Scroll down for full removal instructions
Eightpoint Technologies Ltd. stands behind Get Speed Test Fast, as well as hundreds of other PUPs, such as Get Search Plus, Shipment Trackers, or Login to My Email. Depending on the malware scanner you use, they could be identified as Mindspark toolbars, or something else entirely. All of these PUPs are meant to offer beneficial services, but at their cores, they are advertising instruments. When you install Get Speed Test Fast, for example, your default search provider and New Tab page are modified to introduce search.hgetspeedtestfast.com. At the top of this site, you can find links to news.mynewswire.co (News), broadbandchoices.co.uk (Tips to Increase Speed), and fcc.gov (Speed Guide). In the center, you can find additional links to myemailcentral.com and nationalweatheragency.org. At the bottom, you can find a speed tester from openspeedtest.com. That means that the PUP does not offer anything besides links to third-party sites, and that is the first reason to delete it.
The most important reason to delete Get Speed Test Fast is its unreliable search tool. If you enter keywords into the dialog box, you are routed to Yahoo Search, but the results are modified to show ads. These ads can be selected by third-party advertisers, who have access to your browsing history and other non-personally identifiable information. The PUP provides it to them. So, how will you remove Get Speed Test Fast from your browsers? You could follow the guides below, and they include steps that show how to clear browsing data to get rid of data trackers as well. You also could install an automated anti-malware tool and allow it to get rid of the PUP automatically. This is the option we recommend.
Remove Get Speed Test Fast
Google Chrome
Open the browser and tap Alt+F keys.
Select More tools.
Go to the Extensions menu and Remove the PUP.
Tap Alt+F and select More tools again.
Click Clear browsing data and go to the Advanced section.
Choose a time range and the boxes you want.
Click the Clear data button.
Mozilla Firefox
Open the browser and tap Ctrl+Shift+A keys.
In the Extensions menu, Remove the PUP.
Tap Ctrl+Shift+Delete keys.
In the Clear Recent History menu, select a time range.
Choose the boxes you want.
Click the Clear Now button.
In non-techie terms:
Get Speed Test Fast might offer you something you want, but it is unlikely to provide you with what you actually need. Remember that you do not need to install extensions or applications to test Internet speeds. You could just select one of the many websites that can do it for you without any conditions and without outing you at risk. Besides the fact that the PUP is somewhat useless, it is also very suspicious in how it tracks information and how it uses its own search tool to redirect to Yahoo Search and show ads along with normal results. Therefore, if you choose to delete Get Speed Test Fast manually, using the guides above, do not skip the steps that clear browsing data. If you need to get rid of any other threats, or if you want to secure your system and browsers, we suggest employing anti-malware software instead.