Do you know what Genius Box is?
Genius Box is a browser add-on that is supposed to help you browse various websites in a much easier way. The browser add-on works on such websites as ebay.com, amazon.com, youtube.com, and many others. It is presented as a tool that enables you to browse the Internet without having to re-type the same keyword and open new windows or tabs while browsing for some item.
If you do not like inframe advertisements, you should remove Genius box from your computer and browsers. It has been noticed that the Genius Box advertisements are likely to appear on the right side of the browser. The majority of them have no connection to your search queries. Moreover, they change on a regular basis. The ads are said to be provided through TGF Interactive, which is the parent company of Genius box.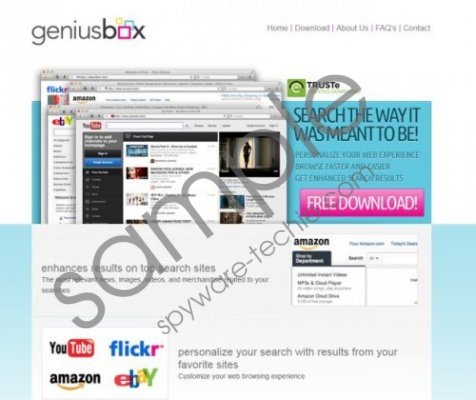 Genius Box screenshot
Scroll down for full removal instructions
Additionally, Genius Box can display pop-up coupons, which are provided by zookaware.com. At the bottom of the window, you will a phrase which reads "By Genius Box". Moreover, it is possible to disable those ads but that does not protect you against other unwanted pop-up contents.
According to the developers of Genius Box, the advertisement should not bother the user, as TGF Interactive is said to rely on minimal advertising. However, if you find those ads annoying, do not hesitate and remove Genius box.
What is more, the application is available on its official website geniusbox.net; it can also be bundled with freeware. Therefore, it is important to read the information provided in the installer so that you have a chance to choose what additional programs you want to have on your PC.
Below you will find instructions which should help you remove Genius Box from the PC and your browsers. Nevertheless, we recommend using SpyHunter as this application can remove all types of spyware and malware. Install our recommend tool if you want to use and browse the Internet safely.
How to remove Genius Box
Windows 8
Hover the mouse over the lower left corner of the screen.
Right-click.
Select Control Panel.
Click Uninstall a program and remove Genius Box.
Windows Vista and Windows 7
Open the Start menu and click Control Panel.
Click Uninstall a program.
Double-click Genius Box to remove it.
Windows XP
Open the Start menu.
Click Control Panel.
Select Add or Remove Programs and remove Genius Box.
In non-techie terms:
After you have uninstalled Genius Box, click the button below and download our recommended scanner which will easily examine the system and provided you with the scan results.
Aliases: GeniusBox.