Do you know what General Crawler is?
General Crawler is a potentially undesirable program (PUP) which may be installed onto your Google Chrome and Mozilla Firefox without your authorization. As researchers have discovered, the application is closely related to the services of General Downloader, available at generaldownloader.com. Even though this application is not considered to be extremely malicious, you should delete General Crawler simply because it manages to enter your operating system without your knowledge. Any unauthorized activity should be treated as malicious. Of course, some computer users may have downloaded the suspicious program from general-crawler.com. Even though this is a legitimate way to install the application, this does not meant that it should no longer be treated as a potentially unwanted program.
If you have not acquired General Crawler from the official website, it might have entered the PC together with Media Finder, also known as Mediafinder. This application is meant to help you find and download files on the internet, and the main purpose of General Crawler is to gather link source websites. Even though the services may seem beneficial, running the add-on may enable its developers to track your virtual activity in order to gather the necessary information. Some computer users find this activity intrusive and rush to delete the suspicious extension from their browsers. Unfortunately, the extension bundled with Mediafinder may restrain manual removal. This should not stop you from getting rid of the undesirable and potentially intrusive plugin.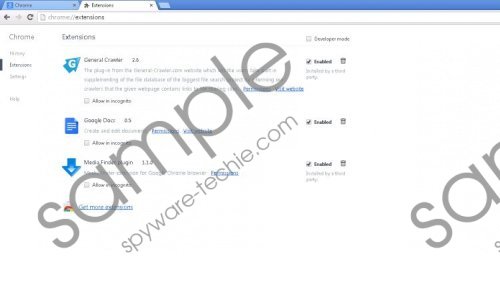 General Crawler screenshot
Scroll down for full removal instructions
Do you know how to remove General Crawler from the PC if you cannot perform this task manually? We recommend utilizing automatic malware removal software. Click the download button below, install the automatic malware remover, scan the operating system and delete all of the detected PUPs or threats. Note that if you have installed the extension yourself from general-crawler.com, it is most likely that you will be able to delete it manually. Follow the manual removal guides below and install a malware scanner to help you find out if your PC is not corrupted by any other suspicious, potentially undesirable programs.
Remove General Crawler
Remove from Google Chrome:
Open Chrome and simultaneously tap keys Alt+F.
In the menu on the right navigate to Tools and click Extensions.
Click the recycle bin on the right of the undesirable plugin.
Select Remove and restart the browser.
Remove from Mozilla Firefox:
Open Firefox and simultaneously tap keys Ctrl+Shift+A.
In the Add-ons Manager click Extensions.
Remove the undesirable plugin and restart the browser.
In non-techie terms:
General Crawler is considered to be a potentially undesirable program because it may enter your PC without your notice alongside Mediafinder and some computer users find it difficult to remove this extension from Google Chrome and Mozilla Firefox browsers. If the manual removal instructions presented above do not work for you, we advise installing automatic malware detection and removal software.
Aliases: GeneralCrawler.