Do you know what Gatmog Search Extension is?
It is dangerous to interact with random advertisements and pop-ups because you might attract unwanted software by doing so. Gatmog Search Extension is one of the many unwanted pieces of software that you could let in. This Google Chrome-compatible add-on is classified as a potentially unwanted program (PUP), and, at first sight, it might not look dangerous or unreliable. Of course, if it slithers into your browser without your knowledge, you should classify it as a threat regardless of how it looks. All programs and add-ons that are capable of entering the system without permission must be reviewed immediately. Unfortunately, if this PUP is active, most likely, there are more serious threats you need to take care of. If you need help removing Gatmog Search Extension and inspecting your operating system for other threats that must be deleted, continue reading this report.
The suspicious Gatmog Search Extension is currently represented to users via the Chrome web store at chrome.google.com/webstore/detail/gsearch/pklajcddhdnahaodiggmjnkdcgkpcopl. Although this source is considered to be reliable, you need to remember that unreliable add-ons can be represented via it as well. According to the official information, the extension can create shortcuts and keyword bookmarks to make it easier to use the "GATMOG Search Engine." This search engine, of course, is linked to the PUP, and we do not recommend interacting with it. If you install the extension via the Chrome webstore, you are informed that it can change search settings and take over the New Tab. Of course, most users will come into contact with this potentially unwanted program via ads and pop-ups. The bad news is that these could be shown by malware that requires immediate removal. Do you know if malware exists on your operating system? If you are not sure about, immediately install a reputable and trustworthy malware scanner, and it will let you know if you need to delete anything malicious.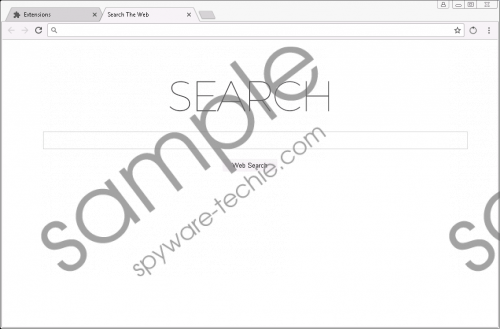 Gatmog Search Extension screenshot
Scroll down for full removal instructions
Once Gatmog Search Extension is in, it should hijack the default search provider and the New Tab. This is done to expose you to www.gatmog.com. This search engine looks like any other, and so some users might choose to use it. That is a mistake, and we do not recommend surfing the web via this tool. If you do, you could expose yourself to malicious search results. According to our research team, the links represented via the results pages could be set up to route you to malicious sites. Needless to say, all kinds of dangers could lurk for you on such sites. You could be exposed to malware and scams, and if you want to avoid all that, you should delete Gatmog Search Extension immediately. The good news is that it is enough to eliminate the PUP to get rid of the hijacker too.
There are several reasons for you to remove Gatmog Search Extension from your Google Chrome web browser, and, hopefully, you do not postpone this important task for any longer. If you do not know how to erase unwanted Chrome extensions, you can use the guide below. As you will see, there are also steps showing how to clear browsing data. This step is important because that is how you will erase all traces of this threat. If you do not take care of that, tracking cookies, for example, could continue spying on you, and we are sure that that is not what you want. You should also consider installing anti-malware software after all this to ensure that your system is protected against malware and PUPs in the future.
Remove Gatmog Search Extension
Launch Google Chrome.
Enter chrome://extensions/ into the address bar to access the Extensions menu.
Click the recycle bin next to the add-on called GSearch and select Remove.
Tap Ctrl+Shift+Delete.
Pick the time range and mark the desired boxes.
Click CLEAR BROWSING DATA and then restart the browser.
In non-techie terms:
Even if you installed Gatmog Search Extension yourself, you cannot classify this potentially unwanted program (PUP) as a harmless add-on. It will take over your browser and track all of your virtual activity. If you use the search tool offered by this extension, you could expose yourself to malicious websites and misleading content, which, of course, is dangerous. Needless to say, removing Gatmog Search Extension is important, and we suggest you take care of that as soon as possible. You have the option to delete this PUP manually using the instructions above, but since malware might be active on your operating system – it could have shown you the ad representing the PUP too – you should consider employing anti-malware software. Once it completes the removal of existing threats, it will start protecting you against all virtual security dangers. Without a doubt, installing this software is the right move.