Do you know what gamingZone Search is?
If you have come across a new button next to your web browser's address bar, there is a possibility that gamingZone Search, a Google Chrome extension, is installed on your computer. Some users download it from the Chrome Web Store (https://chrome.google.com/webstore/detail/gamingzone-search/feloobpiglbhpjlmoggmaabbdiiecgcc?utm_source=chrome-ntp-icon) or http://www.theappjunkies.com, which is considered its homepage, whereas others cannot even explain why this piece of software is active on their systems. Since there are quite a few users who say so, we suspect that it might be distributed using alternative distribution methods and end up on users' computers without their knowledge. This is one of the reasons our research team has decided to classify it as a potentially unwanted application. We can assure you that potentially unwanted software is not as harmful as real malicious applications, but they still have drawbacks, so we do not recommend keeping them installed on the system. Luckily, it will not be too hard to remove gamingZone Search – it is installed as an ordinary browser extension, so if you feel that it has affected your browser without your knowledge, or you have simply not found it useful, you should disable it today. We will first provide more information about this browser extension and then we will help you with its removal.
gamingZone Search does not change the default homepage on users' browsers, as our specialists have observed, but it surely puts a button next to the browser's URL bar and alters the default search tool. If you click on the extension's button, you will see a small search window. The gamingZone Search extension has been developed to enable users to search for "FREE unlimited games," so you could search for online games by simply typing your keyword into the search box or inserting "g" in the address bar and then tapping TAB. This might sound quite useful, we have to admit, but we still suggest that you use a more trustworthy search tool that is not promoted by any potentially unwanted application for your web searches. gamingZone Search will redirect your searches to http://play.eanswers.com/go/?category=web&s=16ds&vert=games&q=buy and then Yahoo! search results will be displayed to you. The latter search provider is not malicious in any way, but there is still a possibility that it will return some modified search results promoting third-party websites. Theoretically, some of these websites might be unreliable.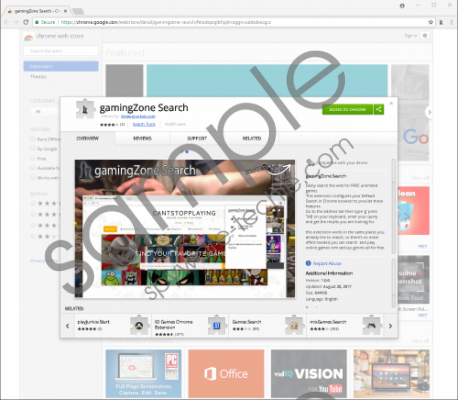 gamingZone Search screenshot
Scroll down for full removal instructions
There is one more tiny thing you should know about gamingZone Search. If you let it stay active, it will automatically collect details "whenever you visit or interact with the Service or Site." First, it records the so-called usage information consisting of browser type, device type, operating system, geographic location, time, etc. Additionally, it records some statistical details. Finally, it also records the user's IP address. As you can see, it focuses on the collection of non-personal details. All these recorded details might be shared with third parties – it does not even try to hide this fact from users. As you can find written in its Privacy Policy, recorded data might be disclosed to affiliates, parent companies, subsidiaries, vendors, service providers, agents, contractors, and advertisers. You cannot do anything about this, but you can disable gamingZone Search whenever you want to.
It is quite easy to disable gamingZone Search, so if you have not found this extension useful, or it has been installed on your computer without your knowledge, you should get rid of it today. If you have never erased an undesirable extension from your web browser before, you should let our instructions guide you through the removal procedure. Potentially unwanted applications can also be erased automatically. To be frank, this is the quickest way to remove undesirable software.
Delete gamingZone Search
Google Chrome
Open Google Chrome.
Press Alt+F simultaneously.
Click More tools and then open Extensions.
Select the gamingZone Search extension.
Click Remove.
Click Remove once again.
In non-techie terms:
gamingZone Search is a piece of software that allows searching for online games. It is not one of those potentially unwanted applications that change homepages or New Tab pages upon the successful installation, but it will change your default search tool and place a button on your web browser – it will open a small window with a search box. Some users find gamingZone Search quite useful while others delete it the second they find it installed on their computers. In our opinion, it would be best not to keep potentially unwanted applications installed even if they are not as harmful as real computer infections.