Do you know what GamingHub is?
GamingHub is meant to provide you with a collection of "your favorite gaming websites," an interactive wallpaper, and a powerful search engine. Although the services provided by this application are meant to be useful, our research team warns not to make any assumptions regarding it. It seems like the creator of this extension simply put a few different services together to get the attention of Google Chrome users, and none of the services are actually useful. The games the program presents can be accessed via Facebook, the interactive wallpaper does not do much to enhance your experience, and the search engine simply routes to third-party search engines. On top of all that, there are security concerns. Due to these reasons, our research team classifies the extension as a potentially unwanted program (PUP). Of course, we recommend that you remove GamingHub, but you should make the final decision only after you finish reading this report.
Google Chrome users are introduced to GamingHub at gaminghub.online, but the "DOWNLOAD NOW" button routes to chrome.google.com/webstore/detail/gaminghub/eafoaklfmpnpdecnhhaailihkdbhkgin, which, of course, is on the Chrome web store. If you choose to add this extension, you are introduced to a pop-up informing you about the permissions the PUP might have if you proceed. These include reading and changing data on websites, the browsing history, and the bookmarks, detecting physical location, and managing other applications and extensions. These permissions alone might be enough to sway you towards the removal of GamingHub if you have installed it already. Of course, the PUP could also spread using pop-ups, malicious downloaders, and software bundles, and if that is how it got in, there is a good chance that you already need to delete other PUPs or even malicious threats. Please download a legitimate malware scanner and inspect your operating system immediately.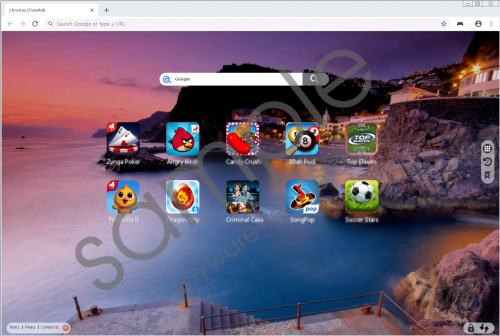 GamingHub screenshot
Scroll down for full removal instructions
According to the Terms of Use documents available on the official website, GamingHub can be used to collect personally and non-personally identifiable information with the help of data-tracking technologies and third parties. This is a security concern for us because having data recorded and, potentially, shared with unknown parties always requires attention. If you feel like you cannot trust the PUP, do not hesitate to delete it right now. Of course, if you enjoy the services provided by GamingHub, you are unlikely to jump into action even if you are uncomfortable with some things. Once installed, the PUP displays a pseudo search engine with seemingly useful easy-access links to third-party services. In the center, you can find a search field that allows switching between Google, Bing, and Yahoo engines. Although the PUP does not modify the results, this is very questionable. Other than that, it displays shortcuts to Facebook games, Google services (Web Store, Docs, Google Search, Gmail, Google Drive, YouTube, Slides, Sheets), as well as Chrome History and Bookmarks menus (chrome://history/ and chrome://bookmarks/).
If you believe that GamingHub is useful, it is unlikely that we will make you change your mind about it, but the fact is that this tool does not offer a single original or unique service, and, on top of that, it can track you and record information about you. Due to this, we suggest deleting GamingHub right now. You can do it manually, and it should not be difficult at all if you follow the instructions below. If malware has entered your operating system, and you cannot remove it yourself, employ an anti-malware program. Keep it installed if you want it to protect you in the future.
Remove GamingHub from Google Chrome
Launch the browser and enter chrome://extensions into the address bar.
Find the undesirable GamingHub extension.
Click the Remove button and then restart the browser.
In non-techie terms:
You do not want to waste time with useless and suspicious programs, and so we recommend that you delete GamingHub from your operating system. If you get rid of this potentially unwanted program, you will not need to worry about personal information being collected and shared. What about the services of the PUP? If you want to play Facebook games, go to facebook.com. If you want to access Google services, go to google.com. Finally, if you want to use a reliable search engine, set it as your default search provider or even home page. You do not need a PUP. Delete it using the instructions available above, or – if other PUPs or threats exist – install trustworthy anti-malware software.