Do you know what Gameszone Search is?
Our research team says that Gameszone Search is a potentially unwanted program. It means that this application may provide you with some service, but it may also come with certain features that can be considered undesirable. What's more, the application might be added to your browser accidentally, and so if you never wanted to have this program on-board, it is about time you remove Gameszone Search for good. Please scroll down to the bottom of this description for the manual removal instructions. Do all you can to protect your computer and your personal information from malicious exploitation.
Perhaps we should establish here that Gameszone Search is not a malicious program. It is very far from malware because this application does not hide from you, and you can find the installation websites for the application in plain sight. If we were dealing with a malware infection, it would either enter your computer surreptitiously, or it would trick you into installing the program. For example, malware infections are really good at making users think that they need to download and open a specific file. They might say that this one file is extremely important, while in fact, it is a malware installer. Gameszone Search, on the other hand, does not do that.
Of course, here you might say that you did not add Gameszone Search to your browser, and you have no idea why this extension is there in the first place. So how does this not count as a surreptitious entry? The point is that you probably added this application unawares when you were installing some other program. Although Gameszone Search has an official distribution source, it can also come bundled with freeware. In fact, that is the most common distribution method employed by potentially unwanted programs, so you need to be really attentive whenever you are about to install a new freeware application.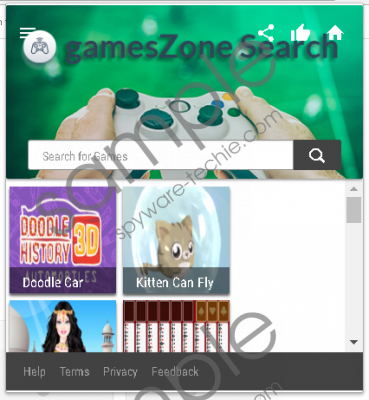 Gameszone Search screenshot
Scroll down for full removal instructions
Let's take a closer look at all the basic ways Gameszone Search might take to reach you. First, we have a page on the Chrome Web Store, where we can find this extension. As you can probably tell, this application is compatible only with the Chrome browser. According to this page, this extension allows you to search the web for free unlimited games. Gameszone Search "configures your Default Search in Chrome browser to provide these features." If you are an avid gamer, this might sound like a good deal, but there are a lot of users out there that are not interested in online gaming, and they still need to deal with this program.
What's more, aside from the page at the Chrome Web Store, Gameszone Search also has an official homepage, and we can access it via njoyapps.com. On the other hand, our research team points out that some of the apps promoted on that website are considered potentially unwanted, too. Hence, it is not recommended to download anything from that site.
We also know that users, who complain about Gameszone Search, do not download it from the main homepage. That is because this application is mostly distributed in software packages when users download freeware apps from third-party websites. This also means that Gameszone Search might be just one of the many unnecessary applications added to your browser. It might be the easiest to spot because it modifies your browser's settings (how annoying!), but there sure might be more unwanted programs on-board, so you would do yourself a favor if you run a full system scan with a licensed security tool.
To remove Gameszone Search from your system, you just need to delete the extension via your browser's settings. You can find the instructions for that below. On the other hand, you could have more threats on-board, when the manual removal is complete; make sure you invest in a powerful antispyware tool.
However, please remember that the security tool of your choice may not be enough to protect you from potential threats. You also need to employ safe web browsing habits by staying away from suspicious websites and refraining from opening unfamiliar email attachments. Sometimes, even if you have the most powerful security tool on your computer, one negligent click might be enough to infect you with malware.
How to Remove Gameszone Search
Open the Chrome browser.
Press Alt+F and click More tools.
Select Extensions.
Remove Gameszone Search from the list.
In non-techie terms:
Gameszone Search is a Chrome extension that should help users find the most popular online gaming websites. However, this application is rather intrusive, and it modifies browser settings in a way that it could expose user to potentially corrupted third-party content. Therefore, it is for the best to remove Gameszone Search from your browser as soon as possible. While you are at it, check for other unwanted content, too.