Do you know what GamesZing is?
GamesZing is a type of application that you might want to remove because it is nothing more than an adware-type program set to display commercial advertisements on Microsoft Internet Explorer. We believe that there is no reason to keep this program because it is good for nothing. It is set to display commercial advertisements that are both annoying and dangerous. Indeed, there is no telling what kind of content may be presented by its advertisements, and you should not wait to find out. In this article, we will show the most relevant information about this program and the dangers in poses.
However, before we move on to its functions, we want to provide you with some background information about it. This application is said to offer free games, but you do not need this program to play the games featured on Gameszing.com — its related website and online gaming platform that features flash games. The odd this about this program is that you cannot download it from that website because it is distributed using software bundles. Our researchers say that in addition to third-party advertisements, this program promotes the games found on Gameszing.com. So the aim of this application is to attract new users and generate advertising revenue by rendering third-party ads.
Our researchers say that it is bundled with freeware-type software and put up for download on free software distributing websites. The installers used to install the bundled software should allow you to remove GamesZing from the installation setup. Some of them can be up front about the additional software while some installers may hide it and you have to select custom/advanced installation settings to see it. In any case, you should be given the opportunity to uncheck GamesZing's respective checkbox and install the bundle without it. Currently, this application is popular in the US only, so the websites it is featured should be US-based as well.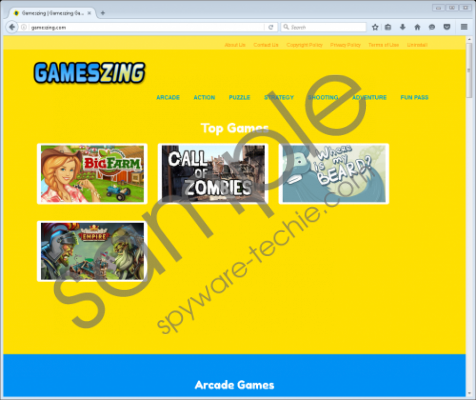 GamesZing screenshot
Scroll down for full removal instructions
Once GamesZing is installed on your computer, it will interact with Microsoft Internet Explorer and appear as its browser helper object. However, it does not help with anything because this application's purpose is to promote flash games and third-party content. We are concerned that the third-party advertisements can redirect you to shady websites that can feature malicious software that you may download thinking that it is legitimate. Apart from that, its ads may come off as annoying and slow down your browser. Most of its ads should appear as pop-ups and coupons, but you might also see banners, in-texts, and so on. Since this program has no other features we regard it as useless and if you do too, then let us move on to the removal guide.
Our research has revealed that this application is dedicated to displaying commercial advertisements that are annoying and can slow down your web browser. Furthermore, its promoted content may be of malicious nature which makes this program highly unreliable and undesirable. This program has an uninstaller in the Control Panel that you can run, and it will remove all traces of this application. Please follow the instructions on how to navigate to Control Panel and run the uninstaller.
Uninstall this hijacker from Control Panel
Windows 8/8.1/10
Right-click on the Start screen/Start menu and select Control Panel.
Click Uninstall a program.
Identify the adware and right-click it.
Click Uninstall.
Windows Vista & 7
Click the Start menu button.
Open Control Panel.
Click Uninstall a program.
Identify the undesirable program, right-click on it.
Click Uninstall.
Windows XP
Open the Start menu and click Control Panel.
Open Add or Remove Programs.
Identify the application.
Click Remove.
In non-techie terms:
GamesZing is an adware program designed to display annoying and invasive advertisements that promote questionable third-party content. Our security analysts say that this application can advertise malicious websites. So this program has nothing useful on offer and can only cause you problems. So if you want to delete it, do not hesitate and do it.