Do you know what Gamesquest Extension is?
Gamesquest Extension is a suspicious extension created for Google Chrome users that we decided to classify as a potentially unwanted program. According to our computer security specialists, the application might be promoted on annoying and questionable pop-up ads. Also, it seems even though such ads might suggest the software should give access to "most popular games," in reality all you get is an unreliable search engine through which you can find content related to games the same way as with any other search engine. However, by picking a more reliable search engine, you would not have to take any chances of encountering potentially dangerous content like while browsing with the Gamesquest Extension's provided search engine. Users who would not want to take such chances can get rid of the potentially unwanted program with the removal guide available at the end of this report or with a reputable antimalware tool they trust.
Just as we mentioned earlier, Gamesquest Extension might be distributed with questionable pop-up ads suggesting the software will provide trending games. Apparently, such advertisements could be encountered while visiting various file-sharing web pages or other unreliable websites. Moreover, they could be displayed by some threat that was installed on the system earlier, for example, it could be a browser hijacker, an adware application, another potentially unwanted program, and so on. In any case, no matter how it managed to get it, the fact it did might suggest the user does not protect his computer enough. To maintain the system clean, we recommend not only keeping a legitimate antimalware tool installed, but also stay away from suspicious file-sharing web pages and collect more information about programs you wish to install before downloading them.
Soon after Gamesquest Extension is installed, it should change the affected browser's default search engine. It is understandable if such changes alone irritate the user, but they might bring even more significant problems. It seems our computer security specialists learned the provided search engine might be showing modified Yahoo search results. The difference between them and the results you would get through the original search.yahoo.com is that the modified ones could contain additional advertising content from unknown third parties. Needless to say, such material might cause some trouble if it originates from malicious web pages or scam sites. As a consequence, we advise users not to search with Gamesquest Extension's search engine. After all, you can find games, gaming web pages, and so on via google.com, search.yahoo.com, and other reliable search engines as well, so we see no point in taking any chances with such an unreliable browser extension.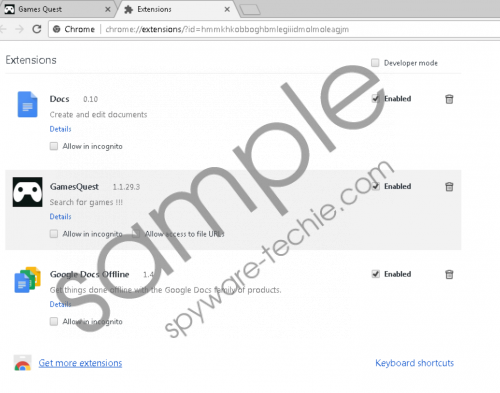 Gamesquest Extension screenshot
Scroll down for full removal instructions
Users who would like to get rid of the potentially unwanted program on their own we recommend using the removal guide placed a bit below this article since the task could be a bit more complicated then you may think. The other way to deal with Gamesquest Extension is to download a reputable antimalware tool, perform a full system scan, and then delete it together with other possible detections by clicking the removal button.
Erase Gamesquest Extension
Launch Google Chrome.
Press ALT+F.
Select Settings.
Click More tools.
Select Extensions.
Look for Gamesquest Extension.
Click the trash bin button near it.
Press Remove.
Restore Proxy settings
Click ALT+F.
Pick Settings and slide below.
Click on Advanced.
Then choose Open proxy settings.
Click the LAN settings button.
Deselect the Use a proxy server for your LAN option.
Press OK.
In non-techie terms:
Gamesquest Extension might look like a must-have extension for any user who likes gaming, but our computer security specialists say it is just another potentially unwanted program with an exaggerated description. That is because the information on pop-ups promoting the software says "Love Gaming? Find all the trending games!" or give similar messages; however, when the potentially unwanted program gets installed you may get a simple search engine. The truth is this search engine might show results injected with suspicious third-party advertising content, which is why we would not advise using it for surfing the Internet or looking for games. On the contrary, if you think it was a mistake to download it we encourage you to erase this questionable browser extension with no hesitation. Users who prefer deleting it manually should look at the removal guide placed above. As for those who would like to employ an antimalware tool we recommend picking a trustworthy tool from reputable developers.