Do you know what GamesJunkies New Tab is?
If you are looking for an extension that offers you quick access to online games, you should forget about GamesJunkies New Tab because this tool may expose you to potentially harmful web content through its third-party services. Since this browser extension does not mean direct danger to your computer, our researchers have categorized it as a potentially unwanted program, or PUP. This should not mislead you into thinking that it is all okay to leave this extension in your browsers. Even if this PUP is remotely not as dangerous as a Trojan horse or even an adware program, it might still indirectly cause some harm. Knowing what might happen regarding the use of this PUP can help you protect your PC from this and similar infections. We cannot make you remove GamesJunkies New Tab, but we definitely believe that is the wisest thing you can do. Hear us out so that you can make up your mind up about this potentially unwanted program.
It seems that this browser extension does not affect Internet Explorer and Microsoft Edge. However, that does not mean that if one of these is your preferred browser, you are all safe. As a matter of fact, the presence of GamesJunkies New Tab on your computer may not only be a result of your visiting its official-looking and rather simple web page at games-junkies.com. It is more likely that you install it without even realizing it when installing a freeware bundle. However, that is a rather questionable method of distribution and you need to be extra careful if ever such a package lands on your computer. It is possible that the bundle is packed with malware infections, which could cause serious damage to your operating system or to your privacy if you let them run amok on your PC.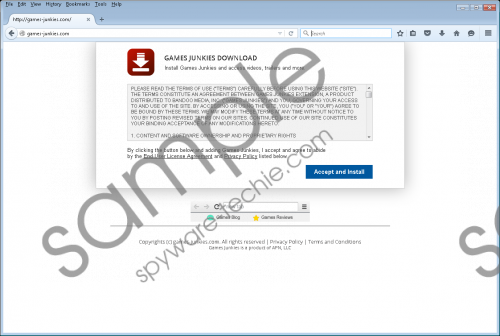 GamesJunkies New Tab screenshot
Scroll down for full removal instructions
If you have this PUP in your browsers, it can also be the "fruit" of clicking on a pop-up advertisement, which would mean that your computer had already been infected with adware before GamesJunkies New Tab showed up. So practically it does not matter how this PUP landed on your computer, its presence may mean multiple risks, unless, of course, you accidentally found its web page and downloaded it from there. If you have any doubts about the origin of this useless PUP, you should not hesitate to delete GamesJunkies New Tab and run a malware scan on your computer right after that. It is essential to find out how many more threats are challenging your operating system because failing to tackle these may result in slower performance or even a crippled system.
Once you install this browser extension, it replaces your home page and new tab settings with ask.com. However, this will be a modified ask.com page. This means that you cannot trust the otherwise reliable third-party search engine because this PUP may modify the search results or insert third-party ads on any third-party services that page offers, including the easy-access links to the gaming related websites. As a matter of fact, our researchers have discovered that this PUP is identical to MovieJunkies, TuneJunkies, and SoundJunkies, which all work the same way. If you want to protect your computer from the invasion of malware infections and the possibility of being scammed by criminals, you should delete GamesJunkies New Tab.
Although this PUP mainly changes the home page and new tab page settings, we advise you to completely reset your infected browsers. This way you can make sure that all leftovers get removed. Otherwise, it might be able to regenerate itself, and before long you would find GamesJunkies New Tab again in your browsers. If you have never reset your browsers, please follow our guide below. But even after removing GamesJunkies New Tab you cannot be totally sure that your computer is safe. That is why we suggest that you download and install a decent antimalware application, such as SpyHunter.
GamesJunkies New Tab Removal from Browsers
Internet Explorer
Press Alt+T and go to Internet Options.
Click on the Advanced tab and click Reset.
Mark Delete personal settings.
Click Reset and press Close.
Mozilla Firefox
Tap Alt+H and go to Troubleshooting Information.
Press Refresh Firefox.
In the pop-up window, press Refresh Firefox.
Click Finish.
Google Chrome
Press Alt+F and open Settings.
At the bottom, click Show advanced settings.
Scroll down and click Reset settings.
Click Reset in the confirmation window.
In non-techie terms:
GamesJunkies New Tab is a useless browser extension that affects Google Chrome and Mozilla Firefox. This extension changes your home page and new tab settings in these browsers to display a modified ask.com search engine page that has a toolbar-looking bar at the top with a few quick links to gaming-related third-party sites. Our researchers have found this extension unreliable and potentially harmful because it might expose you to questionable third-party websites and content. It is also possible that you install it through a freeware bundle, which may mean that malware infections have also arrived with this PUP. All in all, you need to remove GamesJunkies New Tab if you want to protect your PC from any potential risk.