Do you know what GamesFriendly Search is?
GamesFriendly Search is a browser extension for computer users who love playing online games and want to have quick access to a game search. The extension is compatible with the Google Chrome browser, and is available in the Chrome Web Store. However, this website is not the only source of GamesFriendly Search. The browser extension can be bundled with other application, and, unfortunately, it is impossible to pinpoint the programs to which this extension can be attached, because software distributors renew their software bundled from time to time. The GamesFriendly Search browser extension has therefore been categorized as a potentially unwanted program (PUP), and it can be removed from the browser by certain anti-malware programs. If you have no intention of using GamesFriendly Search because it has been installed on your PC accidentally, simply remove it from the computer. Our removal guide and PUP-related recommendations are provided further in the text.
The GamesFriendly Search browser extension may seem to be a handy tool because it adds its button to the browser so that you can have the game search tool within reach. Just one click on the button and you are provided with a drop-down window containing a search box and links to different games. The websites offered to you are owned and controlled by third parties that are separate from GamesFriendly Search. More specifically, GamesFriendly Search is managed by FriendlyAppz, which also manages ArcadeApp Search, which is an almost identical application also available in the Chrome store and distributed alongside freeware.
FriendlyAppz disclaims responsibility for your interaction with third parties accessed through GamesFriendly Search and recommends reviewing the third parties' privacy practice. There are numerous gaming websites offering you unlimited access to games of different categories, but many of those websites are often supported by ad-servers, displaying third-parties advertisements. Online ads can be used not only to attract potential clients' attention but also to deceive unsuspecting people into downloading malware or revealing sensitive information. We advise against visiting such websites so that you do not cause the installation of malware, which may have some long-term consequences. To prevent this, you should remove GamesFriendly Search and use only those websites that are trusted and safe to browse.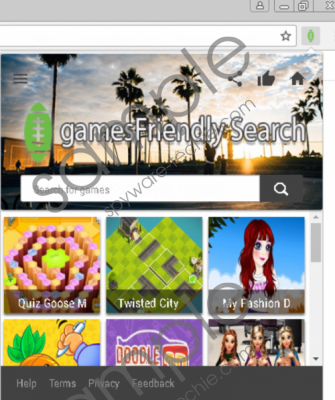 GamesFriendly Search screenshot
Scroll down for full removal instructions
Additionally, the GamesFriendly Search extension alter the settings of the browser so that your search terms are redirected through play.eanswers.com to provide you with possibly modified Yahoo! Search results. That means that your search terms are being recorded, which is usually done by all search engines to define users' interests and preferences. However, the fact that the changes are made by some relatively unknown service provider which has not built up its enviable reputation should be taken into consideration.
Moreover, the search results that are provided as Yahoo! search results may contain some questionable links. If you like this search engine and want to use it as your default search provider, make this setting separately on the browse so that no additional software monitors your browsing sessions. Usually only non-personally identifiable information is collected, which is done for marketing purposes, but if you do not risk your privacy, remove GamesFriendly Search and use only trustworthy software.
Our removal guide will help you to remove GamesFriendly Search from your Chrome browser, but you should bear in mind that there is one alternative. It is possible to have the GamesFriendly Search extension removed by anti-malware, and your advice is to use such a tool so that you can be protected against malware that can do much more than just monitor your browsing sessions. There are millions of trojan horses, browser hijackers, and ransomware, the latter of which has cause serious damage to both individual users and businesses. So, if you want to be secure on the Internet, keep your operating system protected.
How to remove GamesFriendly Search
Click the menu button in the upper right corner of the browser.
Select More Tools.
Click Extensions and remove GamesFriendly Search.
In non-techie terms:
GamesFriendly Search is a browser extension that offers Google users access to online games. The application is categorized as a potentially unwanted program because of the way it is distributed and the changes it makes on the computer. If you have not installed GamesFriendly Search intentionally, remove it from the browse so that you can use the browser as usual.