Do you know what Games4Tab.com is?
Games4Tab.com is a program advertised mostly as a tool that should allow you to play countless online games right within your web browser. While it might sound like a tool worthy of having especially if you enjoy Flash-based games, you should know that in reality, this program is nothing more than yet another intrusive search engine. Instead of enhancing your web browsing experience this program will actually make unwanted and unauthorized alterations to your web browser's default settings. Thus, your daily online activities will become much more bothersome, to put it lightly. In some instances, this application could even prove to act in a potentially dangerous manner. To find out how this could happen and how this search engine works in general, make sure to read the rest of our detailed report. Finally, if you already have Games4Tab.com, be sure to use the instructions that we present below to remove it once and for all.
During our initial analysis of Games4Tab.com it has been discovered that this search engine is at the moment compatible only with the Google Chrome browser. Even if you happen to use a different web browser, you should be aware of this dubious program as its developers could release an updated version, which might affect other popular browsers. Upon intrusion, this invasive application installs a suspicious third-party browser extension that triggers the changes of your default search engine and new tab page. While it might sound like not a huge modification, in reality, it will have an enormous overall effect on the way you experience the web on a daily basis; unfortunately, it will be a negative one. Instead of your default search engine, you will be presented and forced to use a newly appointed one whether you like it or not. Also, you will see a suspicious third-party website each time you will open a new tab instead of a seeing a blank page that you are used to. Unfortunately, the promised gaming opportunities are quite poor as you are presented with just a single quick access link to a questionable third-party site. It goes without saying that having this devious piece of software up and fully running on your personal computer will make your online experience frustrating and bothersome. The only way that you can restore your web browser's default settings is by completely removing Games4Tab.com from your PC once and for all. Do so by making use of the instructions that we present below.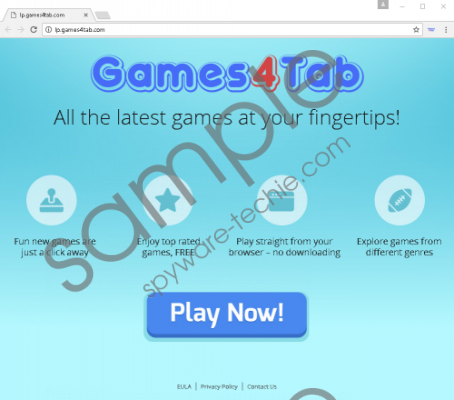 Games4Tab.com screenshot
Scroll down for full removal instructions
Unfortunately, all such invasive features are not the worst thing about Games4Tab.com. During a deeper investigation, malware experts at Spyware-Techie.com have discovered that in some cases your operating system could be subjected to potentially harmful web content. This could happen since the suspicious search engine might present you with questionable results that could turn out to be hosting redirect links leading to suspicious and in some instances even harmful sites. It goes without saying that coming across such a result could have devastating outcomes. In some cases, you could be taken to sites that are designed to infect your personal computer. Malware developers are known to use an arbitrary code execution exploit on their sites; just entering such a web page triggers a silent installation of some unknown malware. In other instances, sites could be disguised as authentic online stores; cyber criminals use such online shops to lure credit card data from unsuspecting Internet users. As you can see Games4Tab.com is just as dangerous as it is invasive. Do not take any chances with this dangerous program and conduct its complete removal at the same moment that it is found up and running on your personal computer.
Use the instructions that we present below to delete Games4Tab.com in its entirety. If you fail to delete every single bit of this devious search engine, you might have to face undesirable outcomes, to say the least. For instance, just a few traces of Games4Tab.com could be more than enough for it to keep the devious changes intact. In a worst case scenario leftovers could trigger this application's silent restoration. To avoid this, you need to perform a full system analysis for potential traces linked to Games4Tab.com once you are done with the manual removal.
How to remove Games4Tab.com from your PC
Google Chrome
Start your web browser.
Click the Chrome Menu button.
Select Settings.
Click Extensions.
Click the Trash can icon next to the unwanted extension.
Select Remove to confirm your choice.
In non-techie terms:
If you are having problems with manual removal and analysis of your PC, do not worry. Our malware experts provide a solution for less experienced users. The alternative instructions that we provide below will allow you to delete Games4Tab.com in an automated manner.