Do you know what gamenaps.com is?
Searches for free games and content alike might bring you to a website called gamenaps.com. While you may find various gaming applications there, you should know that if you allow this web page show notifications, it could start displaying third-party advertisements. Our computer security specialists say that such material could be possibly dangerous as there is no knowing where it could come from. Therefore, we advise not to lose your guard if you come across it. On the other hand, if you cannot stand advertisements and want to get rid of gamenaps.com notifications, you could use our removal guide available below. Our steps explain how to delete the permission given to the website in question from your browser. If you want to know more about gamenaps.com, we invite you to read our full report.
Often users encounter adware servers while interacting with unreliable pop-ups, banners, and content alike. Thus, if you want to keep away from websites like gamenaps.com, you should be cautious and attentive while surfing the Internet. Offers with free games and similar content might seem tempting. Still, if you want to avoid landing on a questionable site or receiving doubtful applications, you should click on ads and links only if you are sure that such material will lead you to reputable web pages. For extra security, we recommend having a reliable antimalware tool that could warn you about possibly dangerous content on the Internet as well as keep your browsing application up to date so it would prevent you from visiting doubtful web pages. As you see, an outdated browser might be unable to recognize websites that were identified by the browser's provider as suspicious recently.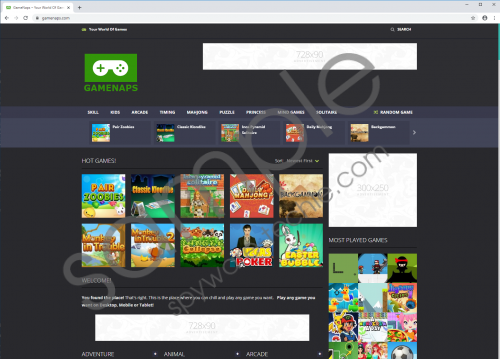 gamenaps.com screenshot
Scroll down for full removal instructions
As you enter gamenaps.com, you should see offers of various gaming applications, such as Solitaire or classic Klondike. Soon enough, you may also see an alert from your browser claiming that gamenaps.com wants to show you notifications. Our researchers say that such notifications may turn out to be nothing more but third-party advertisements. Also, it looks like such content could come from various third-parties, and there might be no guarantees that it will promote only harmless content. Therefore, we advise being careful with it or to get rid of gamenaps.com notifications if you do not want to see such material. If you clicked the Allow button when your browser said that the website wants to show you notifications, permission should have been added to your browser's settings. To make the site stop showing you notifications, you need to erase this permission.
If you need any help while deleting gamenaps.com permission from your browser, you should have a look at the removal guide available below this paragraph. Also, it could be eliminated with the help of a legitimate antimalware tool, so if you prefer using such a tool, we recommend scanning your system and then clicking the displayed deletion button to erase all detections at once.
Eliminate gamenaps.com
Google Chrome
Open Google Chrome.
Type chrome://settings/content/notifications into the browser's address bar and click Enter.
Wait for the Notifications settings to be loaded.
Review all permissions listed in the Allow section.
Find the adware server (https://gamenaps.com:443) and block or remove its permission.
Restart the browser.
Mozilla Firefox
Open your browser.
Type about:preferences#privacy into your address bar and click Enter.
Wait for the Privacy & Security settings to load and locate the Permissions section.
Find Notifications and press the Settings button nearby.
Locate https://gamenaps.com:443, select it, and press Remove Website.
Choose Save Changes.
Restart the browser.
In non-techie terms:
Since gamenaps.com may show advertisements from unknown third parties, the website falls under the classification of the adware server. Naturally, users who do not like seeing third-party advertisements should watch out for such sites. We should mention that the ads might not show up at first as our researchers say that the website displays them only if a user allows it to show notifications. Thus, if you just want to access games on this site, but do not want to get any advertisements, you should click the Block button when you see the alert saying that gamenaps.com wants to show you notifications. If you did not know this the first time you entered this website and now want to remove your provided permission to show notifications, we can offer our removal guide available below that will explain how to do it. Of course, if the process seems complicated, you could employ a reputable antimalware tool that could remove gamenaps.com components after identifying them as adware helpers.