Do you know what GameHug Arcade is?
GameHug Arcade is a potentially unwanted program that is supposed to provide you with some particular function, but the application's side features are too worrying to ignore. The application might be quite useful if you are an avid online gamer, but it is recommended to remove GameHug Arcade from your system, as the application could be exploited as a medium for malware distribution, and you certainly wouldn't want that. Scroll down to the bottom of this description for the manual GameHug Arcade removal instructions.
On the other hand, manual removal cannot protect your computer from any leftover files and additional unwanted programs that might be running on your system this very moment. We have a ground for saying this because it is very likely GameHug Arcade arrived at your computer bundled with freeware. You might say that this application has its own official website, and so on, but during our tests, we couldn't download GameHug Arcade from gamehug.com. As a result, it clearly means that the application usually gets distributed in software packages, and so it is not the only potentially unwanted application you install on your computer at the same time.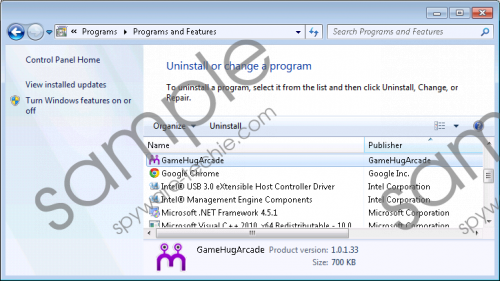 GameHug Arcade screenshot
Scroll down for full removal instructions
To determine what unwanted programs you have on your computer, and to remove them, you ought to scan your system with the SpyHunter free scanner. A full system scan will provide you an extensive list of potentially unwanted programs (if any), and you will be suggested to remove them all.
GameHug Arcade itself is a web browsing application that allows you to "play all the Free Games you want. No Ads, No Time Limits – Just Free!" According to the official website, it also comes with exclusive access to new games and special deals, and you can also connect to GameHug Arcade through Facebook, Twitter, or MySpace. However, before you accept this application as "friend" on your social networking platform, keep in mind that in such a case, GameHug Arcade will most probably gain access to your likes and preferences. Consequently, this information will be used in online marketing campaigns.
It wouldn't be such a big deal if GameHug Arcade were absolutely safe. However, we cannot guarantee that this program won't become instrumental in some adware or malware distribution scheme. In other words, GameHug Arcade is not dangerous, but it is vulnerable, and if cyber criminals decide to take advantage of this application for their own purposes.
Delete GameHug Arcade right now so that you wouldn't need to deal with potentially severe adware infection consequences. What's more, get yourself a reliable computer security application that would safeguard your system against similar intruders.
How to Uninstall GameHug Arcade
Windows 8 & Windows 8.1
Move the mouse cursor to the lower right corner of the screen.
Click Settings on the Charm bar and go to Control Panel.
Open Uninstall a program and remove GameHug Arcade.
Windows Vista & Windows 7
Click the Start menu and go to Control Panel.
Select Uninstall a program and remove GameHug Arcade.
Windows XP
Open the Start menu and navigate to Control Panel.
Double-click Add or remove programs and uninstall GameHug Arcade.
In non-techie terms:
GameHug Arcade is a freeware application that shouldn't be taken lightly. It is not a direct computer security threat, but it would be for the best to remove GameHug Arcade from your system as soon as possible. You will do yourself a favor if you terminate all the other unwanted applications as well. For any further questions, do not hesitate to leave us a comment.