Do you know what Gamegogle.com is?
Gamegogle.com is a browser hijacker that is targeted at Brazilian computer users. When you get infected with this hijacker, your default homepage and search engine are obviously changed to Gamegogle.com. You have to remove Gamegogle.com and everything related to this infection from your computer if you want to protect your system and your money from potentially malicious exploitation. Please scroll down to the bottom of this description for the manual removal instructions. Also, if you need any further assistance with the hijacker removal, you can always leave us a comment.
This browser hijacker isn't as innocent and exciting as it might seem at first glance. Gamegogle.com sports a colorful and engaging homepage that offers you multiple shortcuts to Yahoo! Search, Facebook, Google, YouTube, and a number of Brazilian online gaming sites. That is the problem, however, because it is very hard to trust these third-party gaming websites. The thing is that they can be often full of third-party links and various advertisements that are not reliable, and clicking them could lead to dangerous sites that promote malware. Thus, it is clear you have to get rid of Gamegogle.com as soon as possible, before this hijacker and everything related to it leads to even more serious trouble.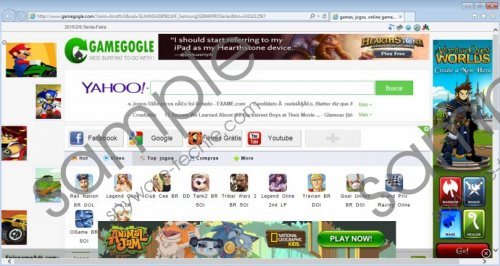 Gamegogle.com screenshot
Scroll down for full removal instructions
The browser hijacker's files are signed by Beijing Gaojiaoxintu Technologies Co. Ltd, but that does not mean the application is a reliable one. In fact, when you get infected with this hijacker, Gamegogle.com installs a background service that constantly checks for updates. This means that the hijacker connects to the Internet behind your back, and it could upload and download data, thus decreasing your Internet speed and system efficiency, neither of which you should tolerate.
We often tend to emphasize that browser hijackers are not direct computer security threats, and the same could be said about Gamegogle.com too. However, you have to keep in mind that browser hijacker seldom comes and functions on its own. When you browser settings get changed, chances are that Gamegogle.com is not the only infection on your computer. Also, the hijacker outsources most of its promotional content at third-party advertising servers, so there is no way to ensure that the links and other promotional information are safe.
Before the situation escalates into something you can no longer control, remove Gamegogle.com from your computer. While you are at it, make use of the SpyHunter free scanner to run a full system scan and locate all the other potential threats. Once you have them deleted, protect your computer against future infections, and stay away from unfamiliar sites that might be promoting or distributing freeware apps and browser hijackers.
How to remove Gamegogle.com
Windows 8 & Windows 8.1
Slide the mouse cursor to the bottom right of your screen.
Click Settings on the Charm bar and go to Control Panel.
Open Uninstall a program and remove Gamegogle.
Windows Vista & Windows 7
Open the Start menu and navigate to Control Panel.
Click Uninstall a program and remove Gamegogle.
Windows XP
Click the Start button and select Control Panel.
Go to Add or remove programs and uninstall Gamegogle.
Remove Gamegogle.com from your browser
Internet Explorer
Press Alt+T and go to Manage add-ons.
Click Search providers on the left pane.
Set a new default search engine and remove Gamegogle.
Click Close and press Alt+T again.
Open Internet options and click the General tab.
Change your default homepage address and click OK.
Mozilla Firefox
Press Alt+T and go to Options.
Change your homepage address under the General tab and click OK.
Click the Search icon on the Firefox search box.
In the drop-down menu, select Change Search Settings.
Change your default search provide, un-tick the undesirable search engine and press OK.
Google Chrome
Press Alt+F and go to Settings.
Select Open a specific page or set of pages under On Startup.
Click Set pages and change your startup page address. Press OK.
Select Manage search engines under Search.
Set a new default search engine, delete Gamegogle and click Done.
In non-techie terms:
Gamegogle.com is a browser hijacker that changes your browser settings without your permission and exposes you to a variety of malicious threats. You need to get rid of Gamegogle.com as soon as possible; otherwise you will up for a big trouble. For an alternative malware removal method, please refer to the secondary set of instructions below this description.