Do you know what Game Jungle is?
Game Jungle is a potentially unwanted program that works like a browser extension. It works on the Chrome browser, and it might exhibit certain features that can be deemed undesirable by most users. It is also possible to install this extension accidentally, so if you didn't intend to have this app on your browser, you can always remove Game Jungle following the removal guidelines below this description. You should also review your web browsing habits if you intend to avoid similar applications in the future.
It is important to note that Game Jungle is not a dangerous computer infection. As we have already established, this application is a browser extension, so it means that users download and install it on their computers willingly. Of course, if you say that you didn't intend to have this application, and it still entered your computer, it means that the app was installed together with some other program that you probably encountered on a file-sharing website. Freeware apps tend to come bundled with other applications, especially if you download them from third-party websites. Thus, it is possible to avoid the likes of Game Jungle if users are careful about the extensions and apps they download on a regular basis.
Although Game Jungle can easily enter target systems in software packages, we have to remember that this extension also has its official homepage that works. The homepage is located at portal.game-jungle.com, and it is also possible to find this app on the Chrome store. From this, we can see that this application promotes its services, and thus, it cannot be categorized as a browser hijacker or a computer security threat. If you think this extension is annoying, it's definitely because you didn't want to have it on-board.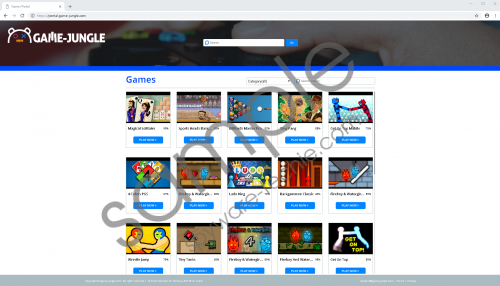 Game Jungle screenshot
Scroll down for full removal instructions
As far as Game Jungle's functions are concerned, this extension is supposed to help you find free versions of your favorite games. It also says that the extension is easy to use, and that it will change your default search engine. The question is, however, just how many users note these facts. Game Jungle definitely informs them about the modifications, but it is very likely that users do not read the additional information that is provided during the installation. So, if you do not check the additional information, the new default search engine might come as a surprise.
If you are into online gaming, you might find Game Jungle rather useful, but we all have to remember that such browser extensions will always monitor our online activities. After all, when you click the Add to Chrome button, you automatically agree to the program's Privacy Policy and the Terms of Use. It is very likely that Game Jungle will monitor your search keywords, so it could provide you with custom commercial content. At first, it might look like a good thing because it would be a lot easier to find the content you need.
Let's not forget that Game Jungle and other freeware applications often share the information with third parties for marketing purposes. On the surface, there isn't much problem with that, but such extensions like Game Jungle seldom check whether the shared information is used. What's more, Game Jungle may also display third-party content that is not safe. That is, the application does not review the third-party content it promotes, and if you get exposed to dangerous websites through the games that this extension offers you. And if it really happens, the extension wouldn't be held responsible for whatever happens to your computer.
To put it simply, if you didn't want this extension, you need to remove Game Jungle from your browser today. Luckily, you can delete this extension via your browser's settings menu, and be done with it. However, there might be more unwanted software installed on your computer, too. Since Game Jungle tends to come bundled with freeware, you are bound to have more undesirable applications installed, especially if you did not notice how this app entered your PC. If you are not sure, which programs should be removed from your system, scan it with a reliable antispyware tool. You will get a list of all the potential threats, and you will be able to protect your system from harm.
How to Remove Game Jungle
Open the Chrome browser.
Press Alt+F and select More tools.
Go to Extensions.
Remove Game Jungle from the list.
Scan your PC with SpyHunter.
In non-techie terms:
Game Jungle is a browser extension that provides information on various online games. If you are an avid gamer, this extension might look like a useful tool, but it might also expose you to potentially harmful third-party content. Also, this extension could be quite intrusive, so you should seriously consider whether it is a good idea to keep Game Jungle on your computer (in the case, you have installed it yourself). If you do not feel confident enough about removing this app manually, do not hesitate to get a powerful security tool that would terminate Game Jungle for you automatically.