Do you know what FVP Image Viewer is?
If you want a proper photo manager, you should not try FVP Image Viewer because this application might cause some system security issues for you. Although we cannot really say a bad word about the program itself since it seems to be all fine, but there are certain traits that have made our researchers label it a potentially unwanted program (PUP). The presence of this PUP may indirectly introduce you to unsafe websites. Engaging with unreliable content may result in malware infections or worse. We believe that your computer would be a safer place without this application. There are so many tools you could use instead of this one that are actually reliable. We advise you to do some more web research in order to find the best application to manage and view your photos with. But first, it is advisable to remove FVP Image Viewer from your PC.
The main source of this potentially harmful application seems to be its official web page at fvpimageviewer.com. The first suspicious sign about this tool is probably the fact that you cannot even install it without setting its own search engine, Search.fvpimageviewer.com, as your home page. Forcing such a tool on users may have a bad ring to it. Keep in mind that it is never safe to use unfamiliar search engines. You cannot possibly know if this search engine provides you with trustworthy results or it simply will redirect your queries to a third-party search engine. It is also possible that you will be shown modified search results that contain third-party ads and sponsored links, which you cannot ever fully trust. If you ever find an unfamiliar tool, such as a search engine in your browsers, you should use our checkbox at the top to check if we have any description written about it.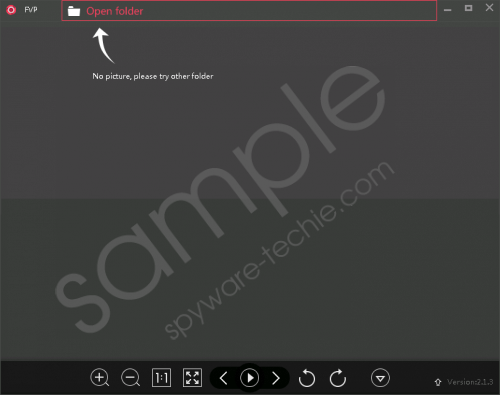 FVP Image Viewer screenshot
Scroll down for full removal instructions
According to our researchers, this PUP was developed by the same team who is responsible for Picexa, yoursearching.com, and omiga-plus.com among others. This clearly shows that this developer creates potentially unwanted programs and browser hijackers as well. Since these applications may expose you to unreliable websites and malware infections, you should not keep any of these on board if you should find them on your PC. As a matter of fact, this PUP might also find its way to your computer via freeware bundles. That is the worst that can happen to you because in this case there is a good chance that several malware programs also sneak onto your system along with this innocent-looking PUP. Bundles may most commonly contain adware programs, browser hijackers, Trojans, and PUPs as well. These all can pose a threat to you and to your operating system as well.
It is important for us to mention how you can install such malicious bundles. Inexperienced computer users may think that malware infections just show up on their computers out of the blue, sneaking on board silently, without their permission and knowledge. So here is a shocker, this is not true most of the time. It is much more likely to get infected with PUPs and malware if you click on unreliable third-party ads, such as banner ads and pop-up ads, or if you happen to land on suspicious file-sharing pages, including pornographic, torrent, and shareware websites. Clicking on any content on these pages may result in such a bad bundle landing on your PC. If this ever happens to you or you are in doubt, you should delete FVP Image Viewer and run a full-system malware scan right after that because your computer will not be fully clean and safe until you eliminate all the threats.
Our researchers have noticed that this image viewer may also install other browser hijackers, including yessearches.com and universalsearches.com. This is rather questionable behavior because these are potentially harmful hijackers that can put your computer at risk. This is just enough reason for you to forget about this PUP and start looking for a trustworthy application. Next time, before you download any application, it is worth running a quick Google search to see what other users write about it. It is possible that you will find articles that suggest you should remove, in this case for example, FVP Image Viewer as a potentially unwanted program. This could save you from some headaches for sure. Once this application finds its way to your system, it makes sure that it starts up automatically with Windows by creating an FVP Image Viewer value name in the Windows Registry keys HKLM\Software\Microsoft\Windows\Current Version\Run and HKLM\Software\Wow6432Node\Microsoft\Windows\Current Version\Run (64-bit!). This PUP also creates a number of folders and files to operate through.
Fortunately, this application has a working uninstaller, which means that it leaves no leftovers after you run it in Control Panel. Please use our instructions below as a reference if you have never uninstalled an application before. Please remember that you can avoid a lot of unnecessary malware attacks if you choose the websites you visit or download software from more carefully. You can also protect your computer if you do not click on random third-party ads, which can be mostly dangerous on unreliable and unfamiliar websites. If you want to make your virtual world a secure place, you should think about installing reliable antimalware software.
Remove FVP Image Viewer from Windows
Windows 8, Windows 8.1, and Windows 10
Press Win+I and open Control Panel.
Pick Uninstall a program.
Select the application and click Uninstall.
Windows Vista and Windows 7
Access the Start menu and go to Control Panel.
Open Uninstall a program.
Select the application and click Uninstall.
Windows XP
Press Win+R and enter control panel. Hit OK.
Click Add or Remove Programs.
Select the application and click Remove.
In non-techie terms:
FVP Image Viewer is a relatively well-functioning image viewer and manager application that might cause some system security issues indirectly. We do not advise you to use or keep this potentially unwanted program, because it may install malware infections, such as browser hijackers, in your browsers, which can expose you to potentially unreliable websites and content. This can further infect your computer with malware or even introduce you to scams by cyber criminals. We believe that you would be safer if you removed FVP Image Viewer from your PC and run a system scan to identify all the other threat sources. If you want to effectively step up against infections, we suggest that you download and install a professional antimalware application that can protect your PC from all kinds of malware threats that are known today. Keep it updated and you will enjoy peace of mind.