Do you know what FusionPlayer is?
FusionPlayer is a suspicious media player application that is categorized as a potentially unwanted program. This would imply that this application most probably was installed on your computer accidentally, and you did not plan to keep it. If you are having trouble with this application, you most certainly need to remove FusionPlayer at once. When you are not sure whether your computer is safe and clean, you can always acquire a legitimate antispyware application. It will scan your system and will let you know what kind of potential threats are on-board (if any). At the same time, it will provide your system with real-time protection.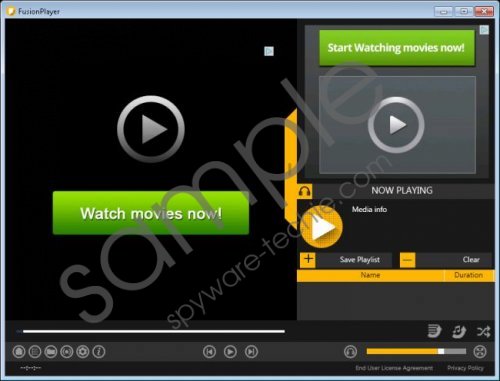 FusionPlayer screenshot
Scroll down for full removal instructions
Perhaps the main problem we have with FusionPlayer is that it looks like a decent media player application, but its playback function is very limited. For example, during our tests, we tried playing an mp3 file on it, but it did not work correctly. What's more, FusionPlayer happens to have its own pseudo browser that pops up into action every now and then. The application will make use of this pseudo browser to display commercial ads, but the pop-ups will also affect your default browser, too. From this, we can see that FusionPlayer is not too far from being an adware program, and that is not something you would want to deal with on a regular basis.
On the other hand, we cannot say that FusionPlayer is a malicious infection because it has a working homepage and the download button in the page functions just fine. You can easily download the application from fusionplayer.com. The homepage looks rather user-friendly, and it says that "with the latest version of FusionPlayer, you can give full reign to your creativity when it comes to making playlists. You will be able to mix and match all sorts of media, from video to sound clips, and even use online streaming videos from websites such as Youtube or Dailymotion." This promotional tagline surely sounds nice, but we know that this program does not live up to its promises.
It is far more likely that FusionPlayer is exploited by third parties to collect data on your web browsing habits. This information is often used for online marketing purposes, to increase traffic on particular websites and to help the people behind adware get rich through the pay-per-click system. We are not trying to say that FusionPlayer is doing something illegal. It is quite far from it. However, such behavior may expose you various security threats. In the long run, it could even result in a malware infection (if you are really unlucky). The bottom's line is that you should not take your chances.
Remove FusionPlayer right now and scan your PC with the SpyHunter free scanner. Even if you uninstall this program via Control Panel, it will leave some leftover files that could help the program regenerate itself. Avoid that by deleting everything automatically with a reliable computer security tool. As mentioned above, this kind of security program would ensure that your PC is safe and sound in the future.
How to Remove FusionPlayer
Windows 8 & Windows 8.1
Move the mouse cursor to the bottom right of your screen.
When the Charm bar appears, click Settings and go to Control Panel.
Open Uninstall a program and remove FusionPlayer.
Windows Vista & Windows 7
Open the Start menu and click Control Panel.
Go to Uninstall a program and remove FusionPlayer.
Windows XP
Click the Start button and navigate to Control Panel.
Select Add or remove programs and uninstall FusionPlayer.
In non-techie terms:
FusionPlayer is a useless media player that cannot play any media files decently. This program annoys users with pop-up ads, consequently leading them to dangerous websites. Save yourself the trouble of dealing with various computer security problems by removing FusionPlayer today. You may also refer to the secondary set of software removal instructions, provided right below this description.